The art of the prank
Slashdot has linked to a site featuring photos of a couple of great workplace pranks today: an office covered in 2,500 Post-It Notes and another filled with 650 balloons. In case the site gets Slashdotted, here are a couple of shots of the pranks: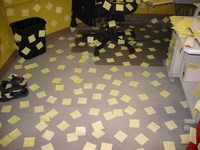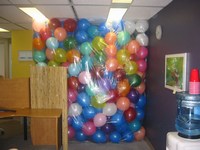 You can find more photos, as well as details on how the pranks were executed, at the links above.
I've never actually had the chance to work in a prank-friendly environment. I was, however, both the victim and perpetrator of several dorm pranks back in my undergraduate days. Without a doubt, the worst prank my suitemates and I ever suffered came when our sister hall decided it would be funny to take the gutted fetal pigs they had dissected in Biology 101 and deposit them in our rooms -- hanging from the ceiling, tucked away in our beds, stashed in the refrigerator, and so forth. For some reason I never quite understood, they also put lipstick on some of the pigs. Oh, and they threw glitter all over our clothes, too. Personally, I found the whole pig thing far more disturbing than funny -- you know, in a ritualistic slaying kind of way. Plus, the formaldehyde permanently stained one of my favorite t-shirts.
Needless to say, my suitemates and I were more than a little angry and itching to retaliate (although that could have just been the glitter). Someone suggested sneaking into their dorm and spiking their laundry detergent with bleach. That seemed unnecessarily cruel, though -- not to mention a bit too costly for them to replace their wardrobes. The next proposal called for waiting until the night before spring break, sneaking out to the parking lot under veil of night, removing one tire from the cars of each resident of our sister hall, hiding them, leaving behind clues on where they might find them, and thus delaying their departures for spring break by a few hours. That option, however, sounded a bit too much like actual work.
Eventually, we decided that the answer was to fight grottiness with grottiness. So, we went out and bought several bags of manure-based fertilizer, a few containers of earthworms, and some crickets. Then, we slipped into their dorm rooms (with the help of an evil resident assistant), spread the fertilizer about liberally, set the worms free in it, and lifted the ceiling tiles to release the crickets where they could chirp along happily until eventually discovered. Sure, the prank lacked panache, but like I said, we were angry -- not to mention the fact that we were a bunch of dumb college students.
And I still think they got off light for the whole pig thing.