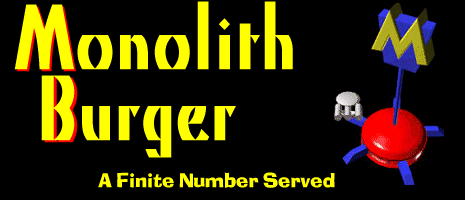 Welcome to Monolith Burger!
Welcome to the official corporate website of Monolith Burger, Inc., the galaxy's number one source of processed beef-esque sandwiches! We have proudly brought you (nominally) fast food service since the later 23rd Century and with your help, we can continue to do so into the next millenium.
While the Monolith Burger Website is still under heavy construction, we invite you to take a look at some of the following features:

Nutritional Facts | Employment Opportunities | Message from the CEO


Meanwhile, let the Monolith Burger Website keep you up to date on the latest developments here at Monolith Burger, Inc.


Murase Named Richest Being in Universe

Diane Murase, CEO of Monolith Burger, Inc., has recently been named the richest sentient being in the known universe by Fortune 9000 Magazine. This is Murase's and Monolith's first time occupying the top spot, which--until recent years--was was generally occupied by Elmo Pug, former head of the mammoth ScumSoft, Inc., before his company's tragic collapse. Murase is a native of Xenon who worked her way up the corporate ladder at Monolith at an almost mind-numbing speed. A little over a year ago, Murase was employed as the lowly Monolith Burger webmistress. When the company underwent its massive restructuring three months ago, Murase managed to land on top as CEO. When reached for comment, Murase stated, "I have to say I'm happy to hear the news. Just a few months ago I was making minimum wage doing web design! Ha!" At the age of twenty, Murase is the second youngest person (after Pug, of course) to be awarded this honor. Diane Murase -- truly one of the greatest success stories in the universe!

Employee of the Month
For the seventy-fourth month running, Ueffo Beeblenarf of Monolith Burger Franchise #45119 in Sector 62 has been named Monolith Burger's employee of the month! Ueffo is a native of the planet Skuul-E in the Muldar quadrant and has worked for Monolith Burger the past sixteen years. He is currently taking correspondence courses in business manangement at Monolith Tech and hopes someday to be promoted from assistant manager to the position of full-fledged Monolith Manager. When asked how he manages to uphold the title of employee of the month for such an impressive number of months consecutively, Ueffo humbly replied, "It's easy when you love what you're doing. Now, would you like fries with that? Perhaps a Filet-O-Orat?" Congratulations yet again to Ueffo Beeblenarf for his outstanding achievement!

Monolith Burger Decoder Ring Recalled

After over seven years as Monolith Burger's most popular Fun Meal prize, the official Monolith Burger decoder ring has been put on recall. Recent customer complaints led to its removal from the prize list. It seems a number of children (and other beings with the mental capacities of children) were swallowing the small toys in the process of enjoying their Fun Meals. Monolith Burger is currently looking for a sufficient replacement for this wildly popular item that hsa been revealed as a serious danger to its customers. In the meantime, all Fun Meals will include toy prizes in the form of shards of broken glass.
---
If you have any questions about the Monolith Burger Corporation or would like to apply for a position, please contact us via e-mail!

Decaffeinated Jedi
Monolith Burger WebmistressMASTER

Return to Articles and Humor!
Return to Roger Wilco's Virtual Broomcloset!
Monolith Burger is a registered trademark of Monolith Burger, Inc., all rights reserved.
Enhanced Monolith image by Nicholas Cross.