In a universe as health-conscious as ours, one has to be careful about what he or she puts into his or her body. If you're watching your weight, cholesterol, salt, or pseudo-meat intake, Monolith is just the place for you. Below is the nutritional value guide to our entire menu. By providing the following information, Monolith Burger, Inc., absolves all responsibility for deaths incurred by the ingestion of our products.
All Monolith Burger sandwiches are made with a mix of Antarian Three-Humped Camel meat and a number of natural (and unnatural) preservatives. This substance has only 94% of the fat of real beef (and approximately 14% of the taste). Polycheeze is a registered trademark of NucleoTherm Institute and is of an unknown composition. It is not recommended that one ingest the prize included in the Monolith Fun Meal; it has only slightly more nutritional value than the meal itself.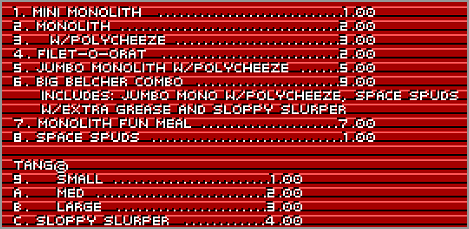 Mini Monolith -- The Mini-Monolith is the perfect snack for the being on the go. With one-twelfth of a pound of beef-esque product, ketchup and mustard, this burger aims to please. 4,000 caloroids; 120 grams of cellulux.

The Monolith BurgerTM-- This is the one that started it all, folks! The Monolith Burger weighs in at a beefy (please note that the Monolith Burger contains less than 1% beef) quarter-pound of hamburgery goodness. Topped with ketchup, mayonaise, mustard, lettuce, and two pickles, this is a treat not to be missed. Also, feel free to add Polycheeze--a registered trademark of the NucleoTherm Institute. 8,000 caloroids; 320 grams of cellulux. With Polycheeze: 9,000 caloroids; 320 grams of cellulux.

Filet-O-Orat -- Sink your teeth into a succulent treat made from the tastiest residents of the small planetoid of Kerona. Topped with our tangy secret sauce, the Filet-O-Orat has always been a popular menu item at Monolith Burger. In the words of Kirzon Jaanx, "It tastes like chicken!" 7,300 caloroids; 250 grams of cellulux.

Jumbo Monolith w/Polycheeze -- Do you have a man-sized appetite and there are no men around to eat? If so, we highly recommend the Jumbo Monolith with Polycheeze--a registered trademark of the NucleoTherm Institute. With three beef-esque patties, this is one burger that's sure to fill you up! If that's not enough, order it in the Big Belcher Combo and get an order of Space Spuds (with extra grease, of course!) and a Sloppy Slurper! What more could you ask for? 14,000 caloroids; 520 grams of cellulux.

Monolith Fun Meal -- The Monolith Fun Meal includes a Mini-Monolith, a small order of Space Spuds, a small Tang©;, and a special toy surprise for the enjoyment of your offspring. For your growing boys and girls, this is the perfect meal. 10,000 caloroids; 300 grams of cellulux.

Space Spuds -- Nothing goes with a nice Monolith Burger like a piping hot order of Space Spuds! Be sure to tell the cashier that you want Space Spuds with that! 3,500 caloroids; 105 grams of cellulux.

Tang©; -- It's the official drink of the astronauts. Nothing washes down a nice Monolith meal like a Sloppy Slurper of Tang©;! As far as our scientists can determine, Tang©; has no known nutritional value.
So, enjoy your meal at Monolith Burger. If you have further questions, the franchine manager should be able to help you out!

Back to Monolith Burger!

*Nutrition available only at participating locations.