What happens when Roger Wilco moves in next door? Why not find out with these Space Quest skins for Maxis' hit game
The Sims
. That's right--Skeearmon has contributed some great-looking
Sims
skins of Roger, Beatrice, and Stellar that you can download below. Why not move them in next door and watch the confusing love triangle unfold? Check out the screenshot below...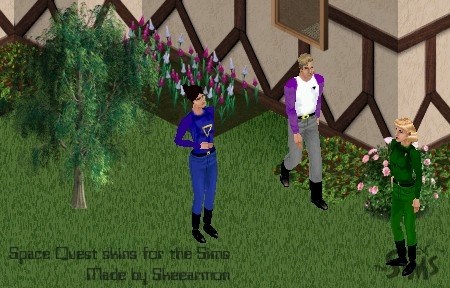 To use these skins with
The Sims
, click
here
to download the file (123KB). Installation is simple. You just need to decompress the zip file and then copy the three bitmap files included therein to the "GameData/Skins" folder in the directory where you installed
The Sims
. Then, just load up the game, and you should be ready to use these snazzy-looking outfits! For more details, consult the readme file that's included with the zip.
As the screenshot below (courtesy of "MartyMcFly") suggests, Roger's StarCon Academy training apparently didn't include a course in home economics: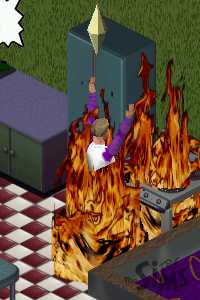 Now, if only there was a "sanitation engineer" career track in The Sims... <g>

Comments, questions, suggestions... jess@wiw.org
Roger Wilco and related materials are © Sierra On-Line.
Space Quest is a registered trademark of the Children's Museum of Indianapolis.
This page is © Decaffeinated Jedi, 2002. Design & layout © Frost Byte Interactive, 2002.
Optimised for 800 x 600 resolution and greater.

{Home}