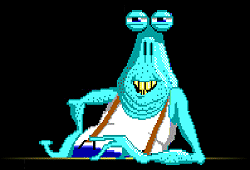 Welcome to World O'Downloads, the one-stop shop for all your Space Quest download needs. Are your Space Quest games breaking down on you? Try out our Space Quest patches! Maybe you're looking for some Space Quest mini-games to keep you busy now that you've played Space Quest 3 about a hundred times. If so, you've come to the right place! Plus, we've got all kinds of other assorted stuff lying around. Feel free to browse all you want. Just remember--if you break it, you've bought it! For sounds and music from the Space Quest series, try surfing on over to the
Multimedia section
. Also, you can find
saved games for the Space Quest series
somewhere around these parts. All of the files in the World O'Downloads are in zipped format and require an
unzipping program
for decompression. If you have an questions or would like to submit a download, feel free to
e-mail me
!

Demos, Mini-Games, and More!
Also, be sure to check out Vonster D. Monster's Space Quest: The Lost Chapter and Jeff Stewart's Space Quest 0: Replicated--two awesome Space Quest fan games that aren't to be missed!

Patches and Utilities

Desktop Wallpaper

Other Stuff

Comments, questions, suggestions... jess@wiw.org
Roger Wilco and related materials are © Sierra On-Line.
Space Quest is a registered trademark of the Children's Museum of Indianapolis.
This page is © Decaffeinated Jedi, 2003. Design & layout © Frost Byte Interactive, 2003.
Optimised for 800 x 600 resolution and greater.

{Home}