Are you a fan of the customizable card game,
Magic: The Gathering
? If so, you need to add Captain Ascii's awesome Space Quest cards to your deck today! That's right--the Virtual Broomcloset is proud to present its own expansion pack,
Space Quest: The Gathering
. So, the next time your opponent throws down a Bog Wraith, just hit him upside the head with Tiny the Terror Fish. Just don't blame the Broomcloset if someone accuses you of cheating.
---
Check out the custom rules for SQ: The Gathering!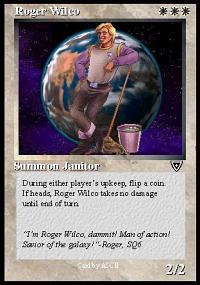 Available Cards
Series One
Series Two
Series Three
Series Four
Series Five
Series Six

Be sure to check back at the Virtual Broomcloset in the future for new installments of Space Quest: The Gathering by Captain Ascii!

Comments, questions, suggestions... jess@wiw.org
Roger Wilco and related materials are © Sierra On-Line.
Space Quest is a registered trademark of the Children's Museum of Indianapolis.
This page is © Decaffeinated Jedi, 2002. Design & layout © Frost Byte Interactive, 2002.
Optimised for 800 x 600 resolution and greater.

{Home}