The Virtual Broomcloset is proud to reveal a secret, never-before-seen character class from Sierra's
Quest for Glory V: Dragonfire
. We all knew about the Fighter, the Mage, the Thief, and the Paladin--but what about the Space Janitor?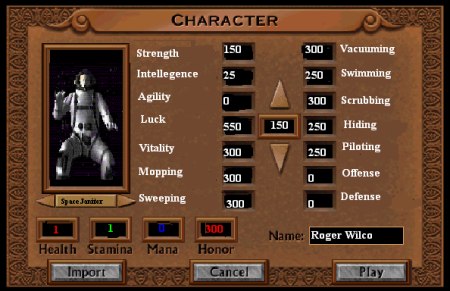 Special thanks to Nick Richmond for bringing this heretofore unseen character class to my attention!

Comments, questions, suggestions... jess@wiw.org
Roger Wilco and related materials are © Sierra On-Line.
Space Quest is a registered trademark of the Children's Museum of Indianapolis.
This page is © Decaffeinated Jedi, 2000. Design & layout © Frost Byte Interactive, 2000.
Optimised for 800 x 600 resolution and greater.

{Home}