Welcome to Casting Call! This page brings you my casting choices for a hypothetical Space Quest movie. Please note that I say "hypothetical." As of right now, there are no plans for a Space Quest motion picture. This page is all for the sake of fun. So, without further ado, let's do!
---

Roger Wilco...Dwight Shultz


Let's face it...this is the big one. I thought and thought forever about who I would like to play this part. David Spade was my first idea, but he seems a bit too sarcastic for the role. Jeff Daniels would be great, but he doesn't look the part. So, I chose Dwight Shultz--best known for his portrayals of "Mad" Murdock on The A-Team and Reginald Barclay on Star Trek: The Next Generation. Shultz is a wonderful actor and quite adept at self-depreciating comedy; I can imagine him hiding out in a closet while the Sariens took over his ship. Furthermore, he looks quite a bit like Roger to boot.

Sludge Vohaul...Anthony Hopkins


Choosing an actor to play Roger's archnemesis was almost as challenging as choosing Roger himself. I wanted someone who could play both an evil man and a genius and look a little like Vohaul. Then, I saw this image of Anthony Hopkins in Entertainment Weekly. When bald, he's the spitting image of Sludge! Hopkins is known as one of the greatest actors of our time, with two of his bigger roles coming as Hannibal "The Cannibal" in Silence of the Lambs and as former President Nixon in Oliver Stone's Nixon.

Beatrice Wankmeister...Sharon Stone


Roger needed a beautiful woman for his love interest in Space Quest 5 (and future wife somewhere around Space Quest 11, I gather) and Miss Stone is the perfect choice. Stone is an excellent actress and could portray Bea's dignified ambassador attitude with ease. I also think the contrast between her and Shultz would be hilarious, much like what transpired in the early part of Space Quest 5. You probably remember the lovely Miss Stone from movies like Basic Instinct, Sliver, and The Quick and the Dead.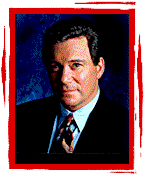 Capt. Raems T. Quirk...William Shatner


This character is obviously based on Shatner's classic James T. Kirk, so who better to play Quirk than Shatner himself? From various interviews I've read with Shatner, he seems like he can act just smug enough to pull off Quirk's character with ease. Besides, he might as well have been doing it for the last 20 years.

Arnoid...Arnold Schwarzenegger


This one was kind of a no-brainer. This baddie from Space Quest 3 was based on Arnold's Terminator character, so who better to play him than the Terminator? For those who have been living under a rock for the last decade or so, Arnold has appeared in such movies as Conan the Barbarian, Predator, True Lies, Kindergarten Cop (which, incidently, was titled Devil King of the Children in Japan), and Junior.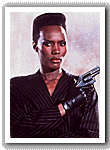 WD-40...Grace Jones


Arnoid's Gippazoid co-worker and Roger's science office in SQ5 needed practically a female version of Arnold to really make her sing. I can't think of a better candidate for such and undertaking than Jamaican-born singer/actress Grace Jones. Jones has released several albums over the last decade and starred in a number of movies, including playing Zulu in Conan the Destroyer. If you've never seen Grace in action, trust me; she is one mean chick!

Other Submissions...
---
Return to the Virtual Broomcloset!
All Space Quest material is © and TM Sierra, all rights reserved. This page is © Decaffeinated Jedi, 1996.