Posted on November 8, 2008
 
More at Timothy Lim's deviantART page.
Posted on October 14, 2008
I've been fighting off the flu for almost a week now, and I find that I'm spending most of my free time in a NyQuil and Benadryl-induced stupor as a result. As I've mentioned before, NyQuil does strange things to me. Specifically, the stuff gives me bizarre, disturbingly realistic dreams. Last night was no exception.
When I finally stopped coughing long enough to dose off last night, I dreamed that I was a contestant on VH1's Rock of Love. Yeah, for reals. Mind you, I wasn't myself competing on Rock of Love. Instead, I was this chick:
 
Yep, I spent all night in a drug-induced coma dreaming that I was the airheaded Brandi C. from the first season of Rock of Love, competing for the heart of washed-up Poison front man Bret Michaels. Needless to say, I think it's time for a new Nighttime Sniffling, Sneezing, Coughing, Aching, Stuffy Head, Fever, So I Can Rest Medicine. And therapy.
Posted on September 27, 2008
 
For more geek-friendly custom ponies (including Batman, Catwoman, Cthulhu, and others), check out Mari Kasurinen's deviantART gallery.
via Topless Robot
Posted on September 25, 2008
 
In all fairness to Mr. Jay, he did say "almost."
Posted on September 18, 2008
 
Seriously, how cracktastic is Top Model this season?
Posted on September 11, 2008
 
It's a tie! After all, how am I supposed to choose between two such wonderful quotes?
Posted on September 8, 2008
 
An unaltered panel from 1981's DC Super Heroes Super Healthy Cookbook. No offense, Green Arrow, but are you sure that's the most responsible way to teach kids how to make a fruit skewer?
via Scan Daily
Posted on September 4, 2008
"Pretty pretty" versus "ugly pretty" visual reference available here.
Posted on September 3, 2008
 
Oh, the things that set my geek heart aflutter.
via No Smoking in the Skull Cave
Posted on August 31, 2008
 
We know that Governor Palin supports offshore drilling and opposes same-sex marriage, but what's her stance on the future of Human/Cylon relations?
via BURNLAB
Posted on August 26, 2008
 
I find it vaguely disturbing that Batman's — er, make that Spiderman's — modus operandi is to "stroke all criminal activates and criminals everywhere."
via Scans Daily
Posted on August 23, 2008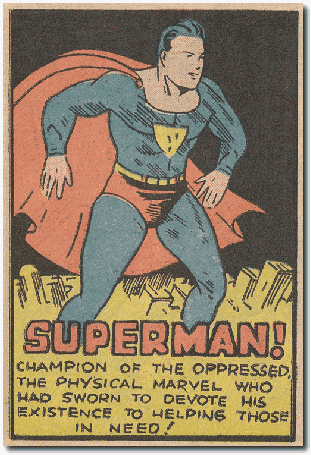 In the wake of The Dark Knight's record-breaking box office haul, it's no surprise that Warner Bros. has set ts sights on a complete reboot of the Superman movie franchise — more or less ignoring 2006's disappointing Superman Returns.
My Superman reboot would take the franchise in a completely different direction. First up, I'd set the film in 1938, the year of Superman's debut in Action Comics #1. Moreover, I'd use CGI to create a highly stylized Metropolis, evoking a retro pulp art aesthetic and harkening back to the Fleischer Superman cartoons from the 1940s. If you've seen Sky Captain and the World of Tomorrow, that's very close to what I have in mind.
Lex Luthor would be the film's villain — depicted here as a mad scientist who unleashes an army of giant robots on the unsuspecting citizens of Metropolis. Lois Lane is a tenacious reporter for the Daily Planet with a knack for finding herself in harm's way. Meanwhile, Superman is something of a mystery — new to the scene, nobody knows where he came from or what he's doing in Metropolis. I'd also scale back his powers a bit to bring them more in line with his early appearances (i.e. stronger than a locomotive, faster than a speeding bullet, able to leap tall buildings in a single bound). From there, the film basically writes itself: Superman smashes a few dozen robots, captures Lex Luthor, and rescues Lois Lane from certain doom.
Of course, I'm probably the only person on Earth who would want to see a retro Superman flick. As far as a more "box office friendly" reboot of the Superman franchise goes, I have a few suggestions after the jump.
Posted on August 18, 2008
 
I remember the exact moment that I completely lost faith in the Star Wars prequels. It was during the climactic arena battle in Attack of the Clones, while R2D2 dragged C-3PO's detached head back to his gold-plated droid body. That's when Threepio groaned, in his inimitable manner, "This is such a drag." Get it? Drag? Oh, George — you're such a kidder!
Over the past few years, however, my opinion on the prequel trilogy has softened considerably. I've steadily grown to appreciate the intricacies of Palpatine's grand plot to overthrow the Republic, Ewan McGregor's charming performance as Obi-Wan Kenobi, the understated menace of Christopher Lee's Count Dooku, the spectacular lightsaber duels, the gorgeous special effects…I've even made peace with Jar Jar Binks (almost). No, the prequels aren't perfect. No, they don't live up to the Original Trilogy. Nevertheless, there are some pretty decent Star Wars moments lurking in Episodes I through III.
Star Wars: The Clone Wars is Lucas' latest entry in the Star Wars saga, a CGI-animated flick set between Attack of the Clones and Revenge of the Sith. Essentially a theatrical pilot for the upcoming television series of the same name, The Clone Wars has been met with dismal reviews from critics and Star Wars fans alike. For instance, Linda Barnard of the Toronto Star raves, "Pretty much drives a stake into the heart of every loyal fan of the movies!"
Well, I've seen The Clone Wars…and it isn't that bad. At least I didn't think so. I'll address some of the most common criticisms leveled at the film after the jump.
Posted on August 17, 2008
Sometimes, seeing photos of another couple's wedding makes me want to run out, book a venue, and renew my own vows. Case in point:
 
Just so we're all on the same page here, that's Admiral Ackbar of the Mon Calamari getting married to Rebel leader Mon Mothma. With Slave Girl Leia presiding. More details here.
Speaking of Star Wars, I should have my review of The Clone Wars posted tomorrow.
Posted on August 7, 2008
 
Hello Kitty will swallow your soul.
(via TokyoMango)