Posted on December 19, 2008 @ 11:07 am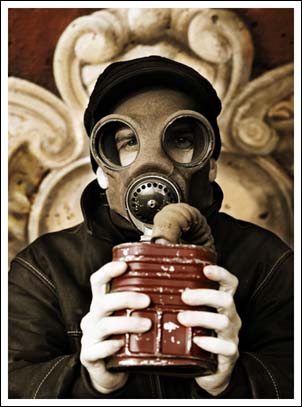 So, I was sitting in my office yesterday, submitting my final grades for the semester, when noxious fumes began to emit from the ceiling vent above my desk. Thirty seconds later, I was feeling dizzy and spilled out into the hallway for some fresh air.
To my surprise, I bumped into a woman standing right outside my office door and wearing an expensive suit that practically screamed "Legal Professional."
"Dr. Apropos?" she inquired.
 
"Yes."
 
"We just wanted to inform you that we're performing some routine maintenance on the furnace today and let you know that you might detect a faint odor in your office as a result."
 
"Yeah, I noticed. Are the fumes dangerous?"
 
"We don't have any reason to think so, sir."
 
"So, is this some kind of liability thing? Is the university officially informing me of the fumes to avoid any potential lawsuits in case I keel over due to exposure?"
 
"No, sir. We just wanted to let you know and see if you had any questions."
 
"But the fumes aren't dangerous?"
 
"We don't have any reason to think so."
 
"You said that before — and it's not exactly reassuring."
 
"I'm sorry, Dr. Apropos, but we need to speak to a few more professors in the building. Have a nice day."
So, yeah…I imagine I have a few more hours to live (at most). It's been grand!