Posted on September 15, 2008 @ 10:20 am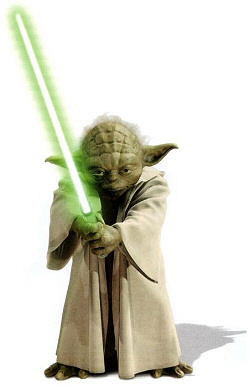 THE SCENE: A Borders bookstore at the local mall. JESS, a 31-year-old college professor and self-professed pop culture geek, stands in line to purchase a recently-released book on global warming. When he reaches the front of the line, he encounters CHECKOUT GIRL, a twentysomething woman running the register.
CHECKOUT GIRL: Are you a Rewards Club member, sir?
 
JESS: Yes, but I don't have my membership card on me.
 
CHECKOUT GIRL: That's not a problem; we can look it up. Can I have your phone number, please?
 
JESS: Sure. It's 555-2368.
 
CHECKOUT GIRL: <clicking on her keyboard> Alright, there you are. Okay, just let me confirm the e-mail address. Are you…Mr. Decaf Jedi?
 
JESS: <looking over his shoulder at the crowd waiting in line behind him, many of whom are now snickering to themselves> Um, yeah. That's me.
 
CHECKOUT GIRL: Is that short for something?
 
JESS: Decaffeinated Jedi. It's just a silly Internet nickname from ten years ago.
 
CHECKOUT GIRL: I see. Well, your receipt is in the bag. Have a great day, Mr. Jedi!
 
JESS: Thanks.
 
FIN.