Posted on June 19, 2008 @ 12:38 pm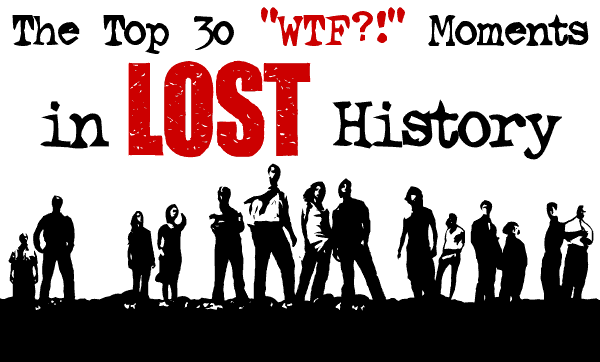 Lost is a television show known for its convoluted plot twists, enduring mysteries, shifting alliances, bizarre coincidences, shocking reveals, and its ability to make viewers take a step back every few episodes and ask a simple question: "WTF?!" Below, you'll find my picks for the top 30 "WTF?!" moments in Lost history. Enjoy!
WARNING: The following post contains spoilers for all four seasons of Lost. Proceed at your own risk.

#30: International jewel thieves Nikki and Paulo are buried alive
Episode: "Exposé" (Season 3)
 
Why it's a "WTF?!" moment: Let me get this straight. Lost introduced a couple of new cast members at the beginning of Season 3, quickly turned them into the most annoying characters ever, and then went into Twilight Zone territory and buried them alive? That's hardcore, man. Oh, and for a bonus "WTF?!" moment, what was Sawyer thinking when he threw those perfectly good diamonds into "Nina and Pablo's" grave?
#29: Jack plays football with the Others
Episode: "Par Avion" (Season 3)
 
Why it's a "WTF?!" moment: Typically, when you set out on a rescue mission, you don't expect to find the captive playing two-hand touch with his captors. Yet, that's exactly what Sayid, Locke, Kate, and Rousseau witnessed they hiked to the barracks to retrieve Jack from the "clutches" of the Others. Had Jack sided with the Others? Had he been brainwashed? Was he suffering from a case of Stockholm Syndrome? Perhaps most importantly, was it a DHARMA-issued football?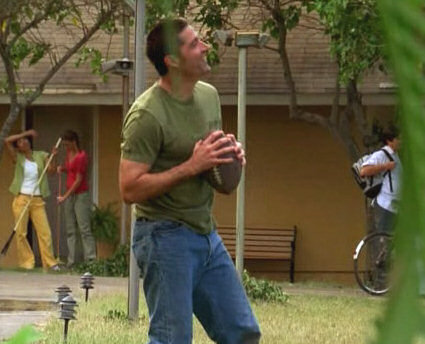 #28: Sayid is revealed as Ben's hitman in the future
Episode: "The Economist" (Season 4)
 
Why it's a "WTF?!" moment: Sayid becoming an assassin after leaving the Island didn't seem so far-fetched, but Sayid working for Ben of all people? That definitely qualifies as a "WTF?!" moment in my book.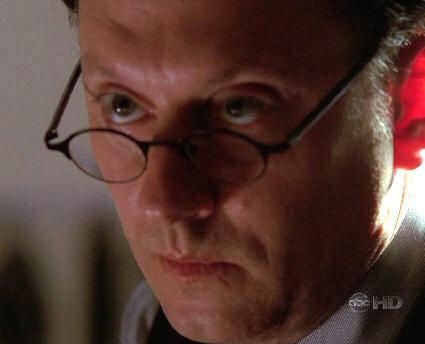 #27: Sun gives birth in the future, Jin rushes to the hospital in the past
Episodes: "Ji Yeon" (Season 4)
 
Why it's a "WTF?!" moment: Very tricky, Lost writers! Considering Sun was busy delivering her baby girl, it only made sense that Jin was rushing to the hospital to be with her. It wasn't until the end of the episode that we realized Sun's delivery-room scenes were flashforwards, whereas Jin's scenes were actually flashbacks. Why wasn't Jin at the hospital when Sun gave birth to Ji Yeon? Well, for an added "WTF?!" bonus, Sun visits Jin's grave in the episode's closing scene.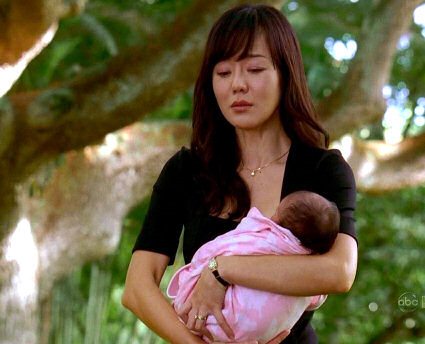 #26: The drug smugglers' plane falls, killing Boone
Episodes: "Deus Ex Machina"/"Do No Harm" (Season 1)
 
Why it's a "WTF?!" moment: Unless you count the pilot or the federal marshal, Boone was the first main character to perish on Lost. Even if Locke maintained that Boone was "a sacrifice that the Island demanded," his shocking death drove home the message that nobody was safe on this show.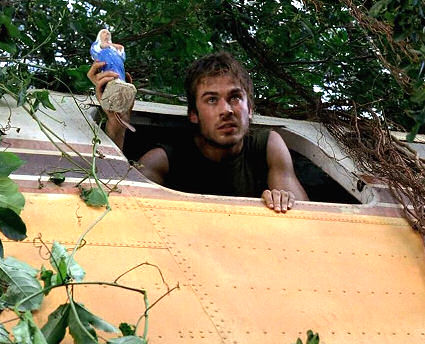 #25: Christian Shephard appears on the Island
Episode: "White Rabbit" (Season 1)
 
Why it's a "WTF?!" moment: Jack was in Australia to retrieve his father's remains, so what is Christian Shephard doing strolling around the Island, seemingly alive and well? Jack would eventually find Christian's coffin intact, yet with no body inside. Christian's apparition/zombie went on to lead Jack to a source of fresh water at the caves, before reappearing just as mysteriously in Jacob's cabin a few seasons later.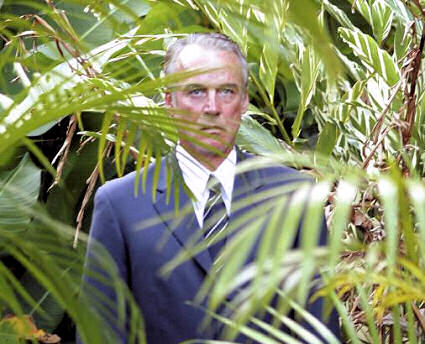 #24: Daniel confirms that time doesn't work quite right on the Island
Episode: "The Economist" (Season 4)
 
Why it's a "WTF?!" moment: We all had our suspicions that time was a little out of whack on the Island, but it wasn't until physicist Daniel Faraday arrived that we received confirmation. After conducting his rocket experiment, Daniel discovered a 31-minute time differential between the Island and the rest of the world. A few episodes later, we would see this differential in action…when the corpse of the freighter's doctor washed ashore on the Island before he was killed and thrown overboard back on the freighter.
#23: Richard Alpert doesn't age
Episodes: "Not in Portland," "The Man Behind the Curtain," and "Cabin Fever" (Seasons 3/4)
 
Why it's a "WTF?!" moment: When Richard Alpert first showed up in the episode "Not in Portland," he appeared to be nothing more than DHARMA's smooth-talking recruiter. Of course, that's before he appeared a few episodes later in Ben's flashback — looking like he hadn't aged a day from the early '70s to the present day. Oh, and by Season 4, we spotted the seemingly ageless Alpert back in the 1950s, visiting John Locke as a child. Does Alpert really not age, or is he traveling through time somehow? It's a mystery yet to be revealed.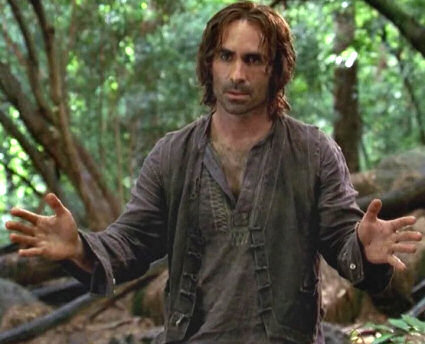 #22: Sayid, Sun, and Jin discover the four-toed statue
Episode: "Live Together, Die Alone" (Season 2)
 
Why it's a "WTF?!" moment: I think Sayid put it best when he said, "I don't know what I find more disquieting: the fact that the rest of the statue is missing, or that it has four toes." If nothing else, what's left of the statue seems to suggest that the Island has been inhabited long before the DHARMA Initiative — much less the survivors of Oceanic 815 — got there.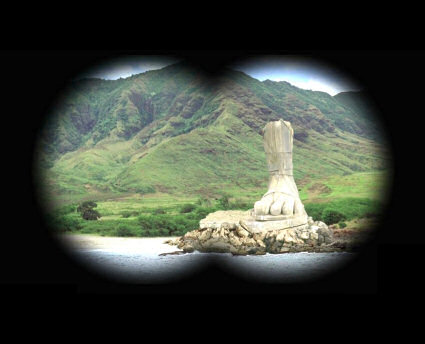 #21: The Losties open the Hatch…and find a Scottish guy living inside
Episodes: "Exodus, Part 2″/"Man of Science, Man of Faith" (Seasons 1/2)
 
Why it's a "WTF?!" moment: The second season opened with an average guy having what appeared to be a typical morning — rolling out of bed, putting on some music, working out, and eating breakfast. Suddenly, an explosion rocks his apartment. It's then that the viewer realizes he's not in an apartment at all; he's inside the Hatch. After Locke spent half the first season trying to gain access to the Hatch (the man built a trebuchet, for Christ's sake), what does he find inside? A guy named Desmond, charged with pushing a button every 108 minutes in order to "save the world."
#20: Ana Lucia shoots and kills Shannon
Episode: "Abandoned" (Season 2)
 
Why it's a "WTF?!" moment: Shannon's death came out of nowhere — even more so than her stepbrother's. After seeing visions of the missing Walt, Shannon ran into the jungle in search of him. Unfortunately, she stumbles across Ana Lucia, who mistakes Shannon for an Other and shoots her. She dies in Sayid's arms as the Tailies stand nearby, shocked. Frankly, I'm shocked Sayid didn't lay a serious beat down on Ana Lucia.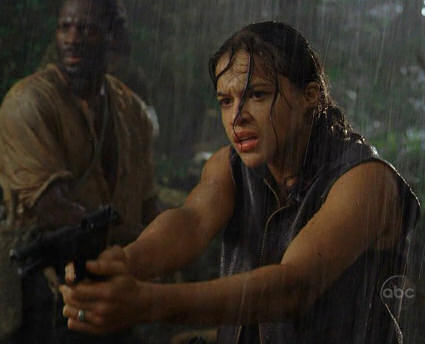 #19: Dr. Arzt blows himself up
Episode: "Exodus, Part 2″ (Season 1)
 
Why it's a "WTF?!" moment: Poor Dr. Arzt — shockingly blown up while lecturing the "A-Team" on the dangers of handling dynamite. Even more shocking? The Losties' indifference to his death. "Dude…you've got some Arzt on you." Poor Dr. Arzt.
#18: The Losties encounter a polar bear in the jungle
Episode: "Pilot, Part 2″ (Season 1)
 
Why it's a "WTF?!" moment: The unexplained appearance of a polar bear in the middle of a jungle was one of the first clues that something wasn't quite right about the Island. Good thing Sawyer was around to shoot it. Interestingly, we saw a polar bear skeleton pop up in the Tunisian desert in Season 4 — the same place Ben apparently teleported when he moved the Island in the Season 4 finale.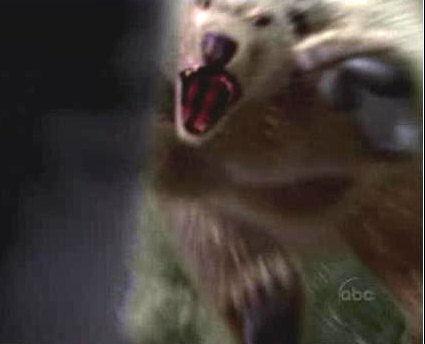 #17: Ethan's name doesn't appear on the flight manifest
Episode: "Raised By Another" (Season 1)
 
Why it's a "WTF?!" moment: By this point in Season 1, Rousseau had already made mention of the mysterious Others, but it's Hurley's impromptu census that reveals an outsider — Ethan Rom — has infiltrated the Losties' camp. Ethan would go on to kidnap Claire before being shot and killed by Charlie a few days later.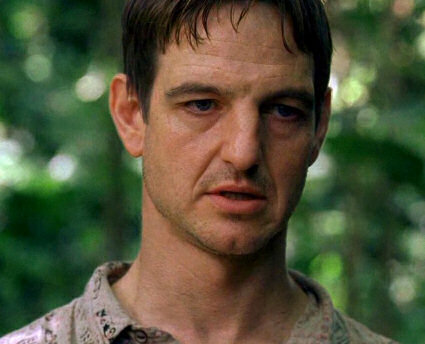 #16: The Others live in a idyllic little town on the other side of the Island
Episode: "A Tale of Two Cities" (Season 3)
 
Why it's a "WTF?!" moment: We already had reason to believe that the Others' primitive appearance was all an act, but it wasn't until the Season 3 premiere that we realized just how much of an act. Not only were the Others not "hillbillies" (as Michael once described them), but they seemed to be living a fairly mundane suburban existence — complete with weekly book club meetings — before the crash of Flight 815. Clearly, there was more to the Others than we had been led to believe in the previous two seasons.
#15: Locke's dad shows up on the Island
Episode: "The Man from Tallahassee" (Season 3)
 
Why it's a "WTF?!" moment: When Ben told Locke to imagine a "magic box" on the Island that could produce whatever someone wanted, seemingly out of thin air, he probably meant it as a metaphor. That still doesn't explain how Ben was able to produce a gagged and bound Anthony Cooper — a.k.a. Locke's father — in "The Man from Tallahassee."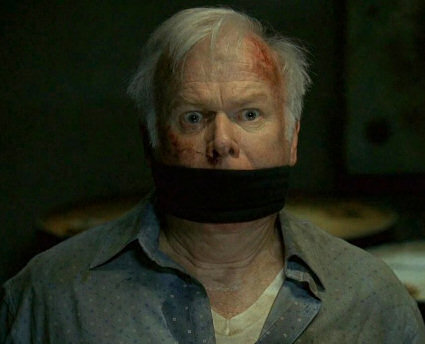 #14: Oceanic Flight 815 crashes
Episode: "Pilot, Part 1″ (Season 1)
 
Why it's a "WTF?!" moment: Sure, the opening minutes of Lost's pilot don't seem quite so shocking four seasons later, but just think back to the first time you saw the episode. A man in a suit — looking curiously like Charlie from Party of Five — wakes up in the middle of a jungle. After seeing a Labrador trot by, the man stands up and rushes through the jungle, eventually arriving at a beach…where he discovers the wreckage of an airliner and a few dozen panicked survivors. Not only did these opening scenes give us our first glimpse of characters who would go on to become some of our favorite Losties, but seeing that guy sucked into the plane's still-running engine still packs a wallop four years later. Why did the plane crash? How did these people survive? Where are they? These opening scenes did a spectacular job of setting up the meta-"WTF?!" that has driven the entire series ever since.
#13: Locke meets Jacob
Episode: "The Man Behind the Curtain" (Season 3)
 
Why it's a "WTF?!" moment: Ben gets his orders from a mysterious higher authority only that only he can see or talk to? I don't know about you, but to me that suggests that either: 1) Ben is crazy, or 2) Jacob doesn't exist. Ben simply made him up to legitimize his leadership over the Others. Locke seemed to reach the same conclusions when Ben took him to visit Jacob's cabin…until the whole place started shaking and a mysterious figure appeared appeared sitting in a nearby chair, imploring Locke to "help" him. Either Jacob exists, or that's one heck of an imaginary friend.
#12: The Orientation Film
Episode: "Orientation" (Season 2)
 
Why it's a "WTF?!" moment: After finally gaining access to the Hatch, Desmond sits Jack and Locke down to watch an orientation film that spells out the purpose of the Swan station. The film — produced by a mysterious group called the DHARMA Initiative — explains that due to an unspecified "incident" in the past, it is of utmost importance that a code (4-8-15-16-23-42, naturally) be entered into the Swan's computer every 108 minutes. Of course, "man of science" Jack assumes the Swan is little more than a psychological experiment, whereas "man of faith" Locke dedicates himself to pushing the button. Of course, we wouldn't find out who was right until the end of the season.
#11: Oceanic 815 is found at the bottom of the ocean…with no survivors
Episodes: "D.O.C.", "The Brig," and "Confirmed Dead" (Seasons 3/4)
 
Why it's a "WTF?!" moment: Not long after parachuting down to the Island in Season 3, Naomi dropped the bombshell that Oceanic Flight 815 had been found with no survivors. By Season 4, we had seen news coverage of the plane's recovery, as well as footage of the wreckage lying on the ocean floor. Who was responsible for staging the crash site? Perhaps even more disconcerting, where did the bodies come from? Fingers have been pointed at both Ben Linus and Charles Widmore as the perpetrators of the ruse, but we still don't know for sure.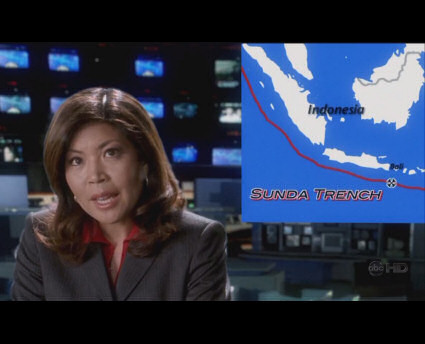 #10: Michael shoots Ana Lucia and Libby
Episode:
"Live Together, Die Alone" (Season 2)
 
Why it's a "WTF?!" moment: Michael is supposed to be one of the good guys, right? Sure, the Others had struck a deal with Michael — free Ben, and we'll return Walt — but nobody said anything about murdering Ana Lucia. And poor Libby? She was simply unfortunate enough to be in the wrong place at the wrong time. The shootings seemed to come out of nowhere, further cementing Lost's reputation as a show where anything could happen.
#9: Locke was in a wheelchair before he came to the Island
Episode: "Walkabout" (Season 1)
 
Why it's a "WTF?!" moment: On the Island, John Locke was a quasi-mystical knife-throwing badass. One could only assume that prior to the crash, he had a military background or special forces training or something that would explain his survival skills. As we discovered in Lost's fourth episode, before coming to the Island, Locke worked…at a box factory? Of course, that wasn't the half of it. It wasn't until the end of the episode that we reached the big reveal: before the crash, Locke was confined to a wheelchair. What forces allowed him to be running around, hunting boars on the Island remains a mystery four seasons later.
#8: Ms. Hawking knows all about Desmond's future
Episode: "Flashes Before Your Eyes" (Season 3)
 
Why it's a "WTF?!" moment: Desmond's consciousness hopping around through time in "Flashes Before Your Eyes" was a "WTF?!" moment in and of itself, but even more bizarre was his encounter with jewelry store clerk Ms. Hawking. When Desmond tries to change his past and buy an engagement ring for Penny, Ms. Hawking informs him that he will do nothing of the sort. Instead, he will break Penny's heart, enter the boat race to prove her father wrong, and end up stranded on the Island where he will push the button for the next three years. History, it seems, has a way of "course correcting." How Ms. Hawking knew about Desmond's future — or even that Desmond's consciousness was traveling through time — remains a mystery.
#7: Anthony Cooper shoves Locke out of an eighth-story window
Episode: "The Man from Tallahassee" (Season 3)
 
Why it's a "WTF?!" moment: How Locke lost the use of his legs was one of the show's longest-enduring mysteries — that is, until we found out the rather tragic answer in Season 3. While Locke was confronting his father, Anthony Cooper, about a con job he was running, viewers were surprised by Cooper's sudden — and brutal — response. Seemingly out of nowhere, Cooper lunged at Locke and pushed him out an eighth story window, paralyzing Locke from the waist down and leaving him confined to a wheelchair.
#6: The Smoke Monster kills Flight 815's pilot
Episode: "Pilot, Part 2″ (Season 1)
 
Why it's a "WTF?!" moment: The Monster wouldn't appear on screen until the Season 1 finale, but it made its presence felt early on in the pilot episode, knocking over trees and making its now-familiar mechanical noises. And it wouldn't be long before the Monster claimed its first victim. When Jack, Kate, and Charlie set out in search of the cockpit, they found the pilot alive, but badly injured. After informing the Losties that the plane had flown hundreds of miles off-course, the pilot was abruptly pulled out of the cockpit by an unseen force. His bloodied corpse was found high in a tree a few moments later, leaving the Losties — and the viewers at home — wondering what could have caused his gruesome death.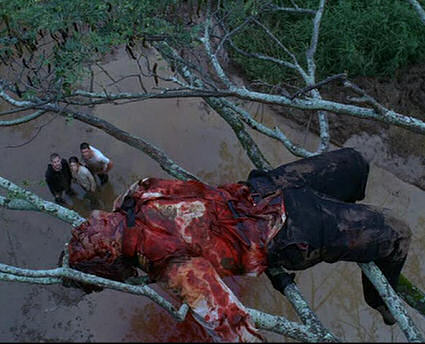 #5: Locke is in the coffin
Episode: "There's No Place Like Home, Parts 2 & 3″ (Season 4)
 
Why it's a "WTF?!" moment: Well, for starters, it's a "WTF?!" moment because Locke (a.k.a Jeremy Bentham) is dead. Since he wasn't a member of the Oceanic Six, it only stood to reason that Locke had remained behind on the Island. When did he leave? Why did he leave? How did he die? Hopefully, we'll begin to unravel this mystery in Season 5.
#4: Locke decides not to press the button
Episode:
"Live Together, Die Alone" (Season 2)  
Why it's a "WTF?!" moment: Following the discovery of the Pearl and its surveillance screens, John Locke lost faith in the button and decided it was nothing more than a psychological experiment. So, in the Season 2 finale, he resolved to stop pressing the button and went so far as to destroy the Swan's computer monitor. Bad idea. The 108-minute timer counted down to zero, some creepy hieroglyphics appeared on the clock, and the system began to fail. While Desmond was ultimately able to avert disaster by using the failsafe key, the resulting electromagnetic pulse turned the sky purple, imploded the Swan, nearly killed Eko, left Desmond with precognitive abilities, and briefly made the Island visible to a listening station in the Antarctic. I guess the Swan wasn't a psychological experiment after all.
#3: Ben moves the Island
Episode: "There's No Place Like Home, Parts 2 & 3″ (Season 4)
 
Why it's a "WTF?!" moment: Behind the scenes, Lost's producers referred to the "big twist" of Season 4's finale as the "frozen donkey wheel." How were we supposed to know they were being so literal. As Season 4 drew to a close, Ben descended into an icy cavern below the Orchid station, turned a giant wheel, and moved the freakin' Island. It was there one minute, and the next…gone. In my experience, islands don't usually do that. Given the unique nature of the experiments conducted at the Orchid station, can we assume that the Island has moved not only in space, but in time as well?
#2: The Others kidnap Walt
Episode: "Exodus, Part 2″ (Season 1)
 
Why it's a "WTF?!" moment: As Season 1 drew to a close, Michael and Jin had finished construction of their raft and set sail in search of rescue. Instead, they found the Others, who demanded that they turn over "the boy." Then, just for good measure, they blew up the raft. Three seasons later, we're still not entirely sure why the Others wanted Walt, but getting him back would become one of the pivotal plot points of Season 2.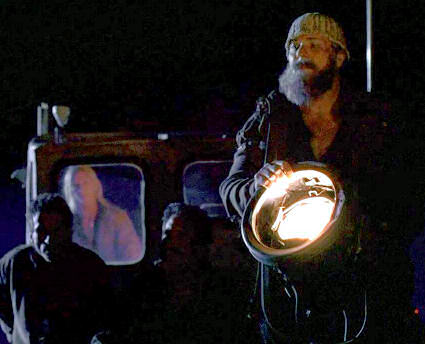 #1: Jack and Kate are off the Island…and in the future?!
Episode: "Through the Looking Glass" (Season 3)
 
Why it's a "WTF?!" moment: Talk about a game-changing moment! After three seasons of the familiar flashback format, the Lost writers threw us a curveball and flashed forward to the future — where a bearded, self-destructive Jack is intent on returning to the Island. "Through the Looking Glass" not only offered a spectacular twist ending (dubbed the "snake in the mailbox" by Lost's producers), but the episode also introduced a new narrative structure that opened up a whole new world of storytelling possibilities for Season 4.