Posted on May 8, 2008 @ 11:40 pm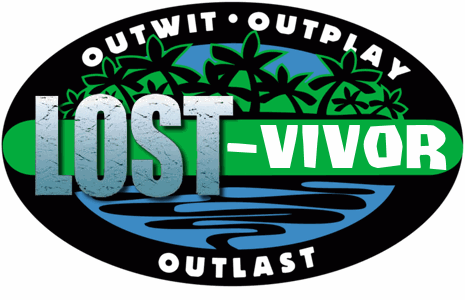 Welcome to Lost-vivor — all the mystery and adventure of Lost with an added dash of Survivor-style competition! Please note that the section ahead contains spoilers for last night's episode of Lost. Proceed at your own risk.

"He wants us to move the Island" — definitely a great conclusion to what I felt was a mixed bag of an episode overall. Seeing Richard Alpert and Matthew Abaddon pop up in Locke's flashback was a fascinating development; the notion that current events on the Island might have been put into motion literally decades ago certainly piques my interest. "Cabin Fever" also confirmed that Christian Shephard is not Jacob (assuming we can trust the presumed-dead physician). Oh, and if the creepy smile on her face is any indication, Claire seems to have officially drunk her dad's Island Kool-Aid. It feels like a turning point for her character arc, and I'm curious to see where it takes her.
Did anyone else notice that the coversheet for Keamy's "secondary protocol" (i.e. torch the Island) was emblazoned with the DHARMA logo? Does that mean that Widmore = DHARMA? If so, that means Ben and the Hostiles essentially stole Widmore's Island out from under him years ago. It would certainly explain their mutual animosity. Very interesting…
Those revelations aside, however, I thought the episode came up short in terms of action. Furthermore, for an episode titled "Cabin Fever," it was a definite letdown that we didn't make it inside Jacob's cabin until about 56 minutes into the episode. And why has Desmond been relegated to standing around in the background while Sayid makes important decisions and people get murdered on the freighter? And why has Michael essentially become a non-factor in the storyline after his "dramatic" return a few episodes back?
Bah, I shouldn't complain. This season has given us way more good than bad. I'm just cranky 'cause Daniel Faraday didn't show up this week. I know what will cheer me up. Let's take a look at my homemade logo for DHARMA's heretofore unseen subterranean Mexican cuisine research station, the Chalupa (introduced in last week's Lost-vivor):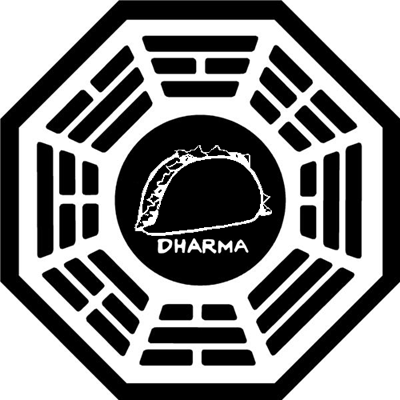 Wouldn't that look great on a t-shirt? Now, let's take a look at the scores!
---

Locke:
 

Born: +1
Wait, can I really give someone a point just for being born?: -1
Well, he's the youngest preemie in hospital history to live. That's worth something, right?: +1
Hey, remember those Cabbage Patch Kids Preemie dolls from back in the '80s? Have you ever stopped to think about just how bizarre of a toy that was? "Hey, kids! How would you like your very own premature baby doll?": -1
D'oh! Where was I? Oh, yeah…Lost-vivor. Here, just take the stupid point, John: +1
Apparently sees dead people. With nosebleeds: +5
Drew what appeared to be a rendering of the Smoke Monster as a child. Creepy: +2
Failed Richard Alpert's somewhat puzzling test. I totally would have picked the comic book: -2
Found the DHARMA mass grave again: +2
Found Horace's corpse, recovered the map: +2
Stuffed in a locker. Does that actually happen to people, or is it completely an invention of television and film?: -1
Turned down Mittelos Bioscience's summer camp. Dude, that could have been your chance to ride in a submarine (assuming you didn't blow it up first): -1
Found Jacob's cabin: +5
Unfortunately, Jacob wasn't home. Isn't that just the story of Locke's life?: -1

 
Net gain/loss: +12
Current score: 134

---

Jack:
 

Not following doctor's orders: -1
Still, he seemed to be getting around rather well for a recent victim — er, "recipient" of sketchy Island surgery: +2

 
Net gain/loss: +1
Current score: 118

---

Ben:
 

You know things are bad when Ben is following Hurley: -1
Got a little whiny with the whole "I used to be the Chosen One" bit: -1
Line of the night: "Destiny is a fickle bitch." What a coincidence! So is Kate: +1

 
Net gain/loss: -1
Current score: 144

---

Claire:
 

Joined Team Christian, seemed rather blasé about Aaron's whereabouts. Isn't this the same chick who spent the last three seasons wailing like a banshee every time the kid got so much as a runny nose?: -6

 
Net gain/loss: -6
Current score: 88

---

Sayid:
 

Rushed in to wake up Desmond and inform him of the chopper's return. Once again, Sayid doesn't sleep; he waits: +1
Hatched plan to evacuate Island, escaped on raft: +4

 
Net gain/loss: +5
Current score: 136

---

Michael:
 

Stomped on by Keamy: -2
Michael's magic "I-can't-die-yet" powers caused Keamy's pistol to jam: +5

 
Net gain/loss: +3
Current score: 82

---

Desmond:
 

Decided to stick around on the H.M.S. Penny's Father's Boat. I know the Island kinda sucks, but have you noticed the tendency of people on the freighter to go batshit insane? I'd disembark at my first opportunity: -2

 
Net gain/loss: -2
Current score: 113

---

Hurley:
 

Actually bothered asking Ben about the Purge. Asking questions that matter is always worth a few points: +2
Distributed water to Ben and Locke. It's always important to stay hydrated when going in search of a mysterious disappearing jungle cabin: +1
Shared his candy bar with Ben. It's like one of those "Not going anywhere for a while?" ads for Snickers come to life: +1

 
Net gain/loss: +4
Current score: 115

---

Frank:
 

Piloted chopper back to the ship. He's getting pretty good at that whole "Bearing 305″ thing: +2
Dropped off the homing doohickey for the Losties on the beach. I'm not sure what he's planning, but let's hope Keamy doesn't find out: +3

 
Net gain/loss: +5
Current score: 126

---
Eleven weeks down, just a few more rounds of Lost-vivor to go. Here are your updated standings:
Ben (144) (-1)
Daniel (144)
Sayid (136) (+5)
Locke (134) (+12)
Sawyer (130)
Frank (126) (+5)
Juliet (125)
Jack (118) (+1)
Hurley (115) (+4)
Desmond (113) (-2)
Sun (112)
Bernard (110)
Vincent (109)
Kate (109)
Jin (109)
Charlotte (102)
Rose (100)
Miles (96)
Claire (88) (-6)
Michael (82) (+3)
 
Well, well, well…it appears we have a tie for first place between Ben and Daniel. Meanwhile, check out the slew of Lost-vivors within striking distance of the number one spot: Sayid, Locke, Sawyer. Even Frank and Juliet aren't out of the running yet. It looks like this season is going to go down to the wire. Anyone care to make a prediction on the winner?
That just about wraps up this week's installment of Lost-vivor. As always, feel free to comment below. Thanks for reading, and I'll see you next time!