Posted on May 1, 2008 @ 11:43 pm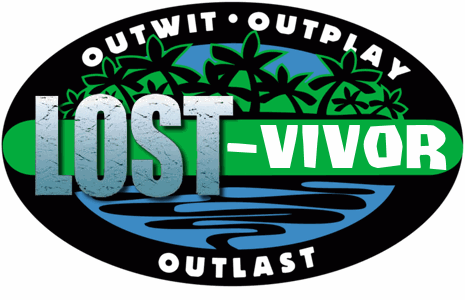 Welcome to Lost-vivor — all the mystery and adventure of Lost with an added dash of Survivor-style competition! Please note that the section ahead contains spoilers for last night's episode of Lost. Proceed at your own risk.

"Something Nice Back Home" wasn't exactly an action-packed extravaganza, but I imagine it was a real treat for all the Jack/Kate 'shippers out there. That being said, I guess I'm glad Jack is still alive, and it was a pleasant change to see Juliet step up to the plate and do the whole doctor thing (considering she's been somewhat underutilized this season).
I'm curious to see where the Christian Shepherd storyline is going — both on and off the Island. I wonder if Jack's whole "get my father down here" rant from the Season Three finale wasn't as nutty as it initially sounded. Factor in Christian's appearance in Jacob's cabin earlier this season, and I imagine things are about to get very interesting.
Meanwhile, I'm definitely enjoying the development of Sawyer's character. Seeing him stand up for Hurley last week and take such a protective attitude toward Claire this week is a welcome turn of events. I'm sure Lost purists are filling up the message boards right now, demanding the return of the guy who used to horde asthma inhalers back in Season One, but I think his evolution makes sense in the context of his recent Island experiences (especially the attack on Othersville).
Anyway, I thought it was an okay episode — nothing earth-shattering, but a decent hour of television nevertheless. Let's take a look at this week's scores…
Jack:
 

Ew…Jack's all sweaty and gross: -1
Passed out again, face-planted on the beach. Hey, I wonder if the "sickness" that Rousseau used to rattle on about was just ordinary appendicitis all along. If so, the whole "murdering her crewmates" thing seems like overkill in hindsight: -1
Slept in, late to an appointment: -1
Jack wears panties now? And he has Star Wars toys scattered around his house? I never realized how much the two of us have in common: -1
Oh, wait — he's living with Kate. Way to go, Jack: +5
And he's reading Alice in Wonderland to Aaron. And getting mucho kissy-face from Kate: +3
Failed to convince Juliet that he was suffering from food poisoning. It was an obvious lie; after all, DHARMA shut down its subterranean Taco Bell station ("The Chalupa") last October: -1
Cooked up the crazy mirror scheme so he could watch his own surgery. If only he had tried to do it himself. As I said last week, that would have been worth fifty points at least: +2
Asked Kate to marry him; she said yes: +10
Stayed conscious for a solid minute his surgery. That's not too bad considering using lidocaine as a local anesthetic for an appendectomy is like crunching up a few children's aspirins and rubbing them on your stomach before cutting it open with a rusty steak knife: +3
Survived the surgery: +10
Saw his dad, who may or may not actually be there: -3
Hey, I'm pretty sure that combining your anti-anxiety medication with six or seven beers is contraindicated: -5
Got a little emotionally abusive toward Kate, still jealous of Sawyer: -4
And thus begins Jack's descent into a drugged-up, suicidal, blubbering mess: -6

 
Net gain/loss: +10
Current score: 117

---

Daniel:
 

Totally called out Charlotte on her "attitude": +1
Volunteered to go to the medical station, found all the junk on Juliet's list: +2

 
Net gain/loss: +3
Current score: 144

---

Claire:
 

Wandered off into the jungle with Christian Shepherd, seemingly abandoned Aaron: -7

 
Net gain/loss: -7
Current score: 94

---

Sawyer:
 

Bestowed nickname on Miles ("Donger"): +1
Check out Mr. Caretaker, looking after Claire and Aaron: +2
Issued a Mysterious Island Restraining Order against Miles on Claire's behalf: +2
Slept through Christian's nocturnal visit and Claire's departure. In Sawyer's defense, he was probably plumb tuckered out from running around like an action hero back at Othersville: -2

 
Net gain/loss: +3
Current score: 130

---

Miles:
 

Apparently hears dead people, found Rousseau and Karl: +4
Targeted by Sawyer's restraining order. Wait a second…doesn't Sawyer need Mayor Locke's approval to do something like that? Or is the jungle under Tribal Chief Jack's jurisdiction?: -2

 
Net gain/loss: +2
Current score: 96

---

Bernard:
 

All up in Daniel's grill: +2
Served as anesthesiologist for Jack's surgery. Appeared disturbingly comfortable applying chloroform-soaked rag: +3

 
Net gain/loss: +5
Current score: 110

---

Charlotte:
 

Speaks Korean. Sure, why not?: +2

 
Net gain/loss: +2
Current score: 102

---

Hurley:
 

Stopped taking meds, isn't sleeping. Looks more nutso than the last time we saw him: -3
On the plus side, he's still getting visits from the Ghost Hobbit: +1

 
Net gain/loss: -2
Current score: 111

---

Jin:
 

Noticed Daniel has a crush on Charlotte: +1
Figured out that Charlotte speaks Korean. Very observant: +2
Brokered a deal to get Sun off the Island: +5
Then again, I'm not sure Charlotte is exactly the "go-to person" for these kinds of matters: -3

 
Net gain/loss: +5
Current score: 109

---

Juliet:
 

Remembered she was a doctor, started caring for Jack: +1
Saw through Jack's clever food poisoning ruse: +1
Took charge of the camp; sent Losties off to boil water, fetch clean towels. That's an OB/GYN joke. Well, kinda: +4
Doesn't know precisely where to make the incision. Don't worry, Jack; if your appendix is inflamed enough, it should be easy to find once she's in there: -2
Successfully pulled off the surgery, saved Jack's life: +10
Offered Jack back to Kate. My theory? Jack is a horrible kisser: +2

 
Net gain/loss: +16
Current score: 125

---

Frank:
 

Thought fast, told Sawyer and company to hide in the jungle: +3
Distracted Keamy when Aaron started crying. Stupid babies: +2

 
Net gain/loss: +5
Current score: 121

---

Rose:
 

Bestowed nickname on Charlotte ("Red"): +1
Correctly pointed out that Jack shouldn't be getting sick on the Island. If anything, he should be growing a second appendix: +2

 
Net gain/loss: +3
Current score: 100

---

Sun:
 

Remembered where the medical station was: +4

 
Net gain/loss: +4
Current score: 112

---

Kate:
 

Since I didn't give Kate any points for her fancy house the last time we saw it, consider this catching up: +2
Drafted as Juliet's nurse: +1
Subsequently kicked out of the operating tent: -1
Accepted Jack's marriage proposal: +10
Unfortunately, her financé is a pill-popping, self-loathing, hallucinating alcoholic: -5

 
Net gain/loss: +7
Current score: 109

---
Ten weeks down, just a few more rounds of Lost-vivor to go. Here are your updated standings:
Ben (145)
Daniel (144) (+3)
Sayid (131)
Sawyer (130) (+3)
Juliet (125) (+16)
Locke (122)
Frank (121) (+5)
Jack (117) (+10)
Desmond (115)
Sun (112) (+4)
Hurley (111) (-2)
Bernard (110) (+5)
Vincent (109)
Kate (109) (+7)
Jin (109) (+5)
Charlotte (102) (+2)
Rose (100) (+3)
Miles (96) (+2)
Claire (94) (-7)
Michael (79)
 
While Ben maintained a very narrow lead over Daniel, there were some shakeups further down the scoreboard worth noting this week. Juliet posted major gains thanks to her successful surgery, and Jack didn't do too bad for himself either by surviving the ordeal. It's also worth mentioning that Frank Lapidus has somehow crept into seventh place over the past few episodes — and is now in easy striking distance of the top three. Could he be this season's Lost-vivor dark horse?
That just about wraps up this week's installment of Lost-vivor. As always, feel free to comment, complain, or offer your predictions below. Thanks for reading, and I'll see you next time!