Posted on September 13, 2007 @ 11:53 am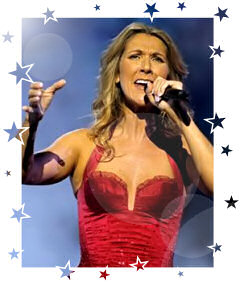 As I was riding the elevator back to my office after class this morning, I was joined by a peculiar man sporting a Celine Dion t-shirt and a vaguely disconcerting gleam in his eye. Yes, a Celine Dion t-shirt. In public!
Unfortunately, the Social Distortion Field generated by my iPod wasn't powerful enough to prevent this guy from striking up a conversation.
"That's a really nice iPod!"
I pop out my earbuds. "Thanks. I just picked it up a month ago to replace a broken one."
"Awesome! So, what are you listening to?"
Gah! Why is this elevator so damn slow?
"Feist."
"Is that a band? I've never heard of them."
"She's a Canadian singer-songwriter."
Did I just say Canadian? I think I did. Please, if there's a God above, don't let that be the opening this guy needs to bring up Celine Dion.
"My favorite singer is Canadian, too! Do you have any Celine Dion songs on your iPod?"
Sigh. "No, I'm afraid I don't."
A crestfallen look washes over his face. "Well, do you like Celine Dion?"
I'm already imagining my obituary in the campus newspaper, describing how this promising young professor was tragically slain after only his third week of classes — beaten to death with his own backpack by a crazed Celine Dion fan.
"Yeah, I guess she's okay." Nice save.
"What's your favorite Celine Dion song?"
D'oh! What does Celine Dion sing? She sang the theme to Titanic, right? No, I can't say that. It's too obvious. Besides, nobody likes that song (except maybe this guy). Wait…there's that other really annoying song…what was it called?
"I guess my favorite is '(I'm Everything I Am) Because You Loved Me.' She really has a great voice."
"Awesome! I love that song, too!" Translation: I'm not going to murder you after all!
Thankfully, before my new friend and I had a chance to discuss my second favorite Celine song, the elevator reached my floor and I scurried out to safety. I'm still a little discombobulated by the encounter, though. As it stands, Mr. Dion is about one more shared elevator ride away from taking over as my new Fedora-and-Pipe Guy here at Bovine State University.