Posted on July 28, 2007
Video: The teaser for The Dark Knight, the Batman Begins sequel, is online. Not much in terms of visuals, but we get to hear dialogue from Heath Ledger's Joker for the first time.
Posted on July 28, 2007
 
Is it too late to add Plopper (a.k.a. Spider-Pig, a.k.a. Harry Plopper) to my countdown of the top 25 Simpsons supporting characters? I thought The Simpsons Movie delivered on almost every front: beautiful animation, a solid story, and some downright hilarious gags. I would have liked to have seen more of our favorite Springfieldians get a chance to shine (Mr. Burns seemed particularly underutilized considering the nature of the plot), but I understand the difficulty when you're trying to cram literally hundreds of characters into a 90-minute movie.
The bottom line is, if you're a fan of The Simpsons (even the kind that claims the show jumped the shark a decade ago), go see The Simpsons Movie. It's well worth the 18-year wait. And there's Spider-Pig. I can't overstate the wonderfulness of Spider-Pig.
The verdict: A-
My top ten favorite movies of 2007 (so far) follow after the jump.
Posted on July 27, 2007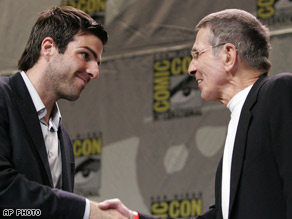 It's official: Zachary Quinto, best known for his role as the villainous Sylar on Heroes, has been cast as Mr. Spock in J.J. Abrams' Star Trek reboot. I'm definitely cool with that. Internet rumors suggested early on that Adrian Brody might play the half-Vulcan science officer, but I think Quinto is a far better fit.
There's no announcement yet on who will play Kirk, and Matt Damon has dismissed his attachment to the project as mere Internet speculation. I'm so attached to William Shatner in the role, I can't think of a proper replacement. For whatever reason, my gut instinct is Christian Bale, but having him play both Batman and Captain Kirk would be too much of a nerdgasm even for me.
Who would you choose to play Kirk? How about Bones, Scotty, and the rest?
Posted on July 27, 2007
Video: Brought back to life after the tragic events of Transformers: The Movie, Optimus Prime is in for a rude awakening. NSFW language.
Posted on July 25, 2007
Video: The trailer for Wes Anderson's The Darjeeling Limited is about eight different kinds of awesome.
Posted on July 25, 2007
 
One of the many things that makes The Simpsons great is the show's mammoth cast of supporting characters. With The Simpsons Movie slated for release this Friday, Apropos of Something proudly presents the Springfield 25, counting down the top supporting characters in Simpsons history. Feel free to share your own choices (as well as any favorite episodes, quotes, or whatever) in the comments section. Enjoy!
25. Snake

Memorable Quote: "Yoink!"

Random Trivia: Robert "Snake" Jailbird was a professor of archaeology before turning to a life of crime.

24. Rich Texan

Memorable Quote: "Son, I represent a group of oil tycoons who make foolish purchases. We already bought us a stained glass bathrobe, and the world's fattest racehorse! And now, we need your ice man."

Random Trivia: The Rich Texan has an heiress daughter named Paris Texan.

23. Mayor Quimby

Memorable Quote: "All right, settle down, people. We are all upset by Mr. Burns' plan to block out our sun. It is time for decisive action! I have here a polite but firm letter to Mr. Burns' underlings who, with some cajoling, will pass it along to him or at least give him the gist of it."

Random Trivia: The character of "Diamond" Joe Quimby is based in part on "Diamond" Jim Purcell, a corrupt police chief during the 1950s in Matt Groening's hometown of Portland.

22. Fat Tony

Memorable Quote: "I am not so much disappointed, as I am blinded with rage."

Random Trivia: Fat Tony is a competent violinist, as seen in the episode "Insane Clown Poppy."

21. Waylon Smithers

Memorable Quote: "Uh, no, they're saying 'Boo-urns! Boo-urns!'"

Random Trivia: In Smithers' first appearance ("Homer's Odyssey"), he was accidentally made African-American by the animation studio. With tongues planted firmly in cheek, the producers insist that Smithers had just returned from a Caribbean vacation prior to the episode and should be considered "suntanned."

20. The Sea Captain

Memorable Quote: "Yarr, it begins. The dolphins are upon us and only this old sea dog knows how to stop — Yarr!" (two dolphins jump out of the water and rip him apart)

Random Trivia: The Sea Captain's actual name is "Captain" Horatio McAllister. On separate occasions, he has admitted to not being an actual captain, as well as claiming to "hate the sea and everything in it."

19. Chief Wiggum

Memorable Quote: "This is Papa Bear. Put out an APB for a male suspect, driving a…car of some sort, heading in the direction of, uh, you know, that place that sells chili. Suspect is hatless. Repeat, hatless."

Random Trivia: Clancy Wiggum became Springfield's Chief of Police when the former Chief got fed up with the job and decided to give his badge to the next person he met (i.e. Wiggum).

18. Grampa Simpson

Memorable Quote: "Now, my story begins in nineteen-dickety-two. We had to say 'dickety' 'cause the Kaiser had stolen our word 'twenty.' I chased that rascal to get it back, but gave up after dickety-six miles…"

Random Trivia: In addition to being a member of the secretive Stonecutters, Grampa Simpson is also an Elk, a Mason, a Communist, and President of the Gay and Lesbian Alliance.

17. Disco Stu

Memorable Quote: "Disco Stu likes disco music."

Random Trivia: Stu had a budding career as a sea captain (calling himself "Nautical Stu") before Marge introduced him to disco music.

16. Itchy & Scratchy

Memorable Quote: "They fight! And bite! They fight and bite and fight! Fight fight fight! Bite bite bite! The Itchy and Scratchy Show!

Random Trivia: In the Simpsons universe, Itchy and Scratchy first appeared together in a 1928 cartoon short titled "Steamboat Itchy."

15. Groundskeeper Willie

Memorable Quote: "There's nary an animal alive that can outrun a greased Scotsman."

Random Trivia: Willie's archenemy is the Irish Groundskeeper Seamus.

14. Lenny and Carl

Memorable Quote: "You know, I was hexed by a troll once and a leprechaun cured that right up."
"Hey, you know what's even better is Jesus. He's like six leprechauns!"
"Yeah, but a lot harder to catch. Go with the leprechaun."

Random Trivia: Both Lenny and Carl hold Masters of Physics degrees.

13. Professor Frink

Memorable Quote: "Unshrink you? Well that would require some sort of a 're-bigulator,' which is a concept so ridiculous it makes me want to laugh out loud and chortle…but, aaahh, but not at you, O holiest of Gods, with the wrathfulness and the vengeance and the bloodrain and the 'Hey, hey, hey — it hurts me!'"

Random Trivia: Professor Frink is named after John Frink, a Simpsons writer and producer.

12. Nelson Muntz

Memorable Quote: "Shoplifting is a victimless crime. Like punching someone in the dark."

Random Trivia: Nelson once attended Space Camp with classmate Martin Prince, and the two became close friends. Nelson had to abandon the friendship upon returning to school, however, in order to maintain his "bad boy" image.

11. Cletus the Slack-Jawed Yokel

Memorable Quote: "Hey, you know what? I could call my ma while I'm up here. HEY, MA! Get off the dang roof!"

Random Trivia: A partial list of Cletus Del Roy Spuckler and Brandine's children includes: Tiffany, Heather, Cody, Dylan, Dermot, Jordan, Taylor, Brittany, Wesley, Rumer, Scout, Cassidy, Zoe, Chloe, Max, Hunter, Kendall, Caitlin, Noah, Sasha, Morgan, Kyra, Ian, Lauren, Q-Bert, Phil, Condoleezza Marie, Rubella Scabies, Gummy Sue, Birthday, Crystal Meth, Dubya, Incest, International Harvester, Jitney, and Witney.

10. Krusty the Clown

Memorable Quote: "Kids, we need to talk for a moment about Krusty Brand Chew Goo Gum-Like Substance. We all knew it contained spider eggs, but the hantavirus? That came out of left field. So, if you're experiencing numbness and/or comas, send five dollars to: Antidote, P.O. Box…"

Random Trivia: Krusty once hosted the Krusty Komedy Klassic (KKK) at the Apollo Theater in Harlem, New York. Needless to say, the show wasn't a success.

9. Moe Szyslak

Memorable Quote: "Well, why don't you invite him over to dinner? Turn him from an enemy into a friend. Then, when he's not expecting it… Bam! The ol' fork-in-the-eye!"

Random Trivia: Before becoming a bartender Moe played "Smelly" on The Little Rascals, as well as pursuing a professional boxing career — initially under the name "Kid Gorgeous," followed by "Kid Presentable," "Kid Gruesome," and eventually "Kid Moe."

8. Apu Nahasapeemapetilon

Memorable Quote: "Thank you, come again!"

Random Trivia: Apu and his wife Manjula are the proud parents of octuplets: Anoop, Uma, Nabendu, Poonam, Priya, Sandeep, Sashi and Gheet.

7. Milhouse

Memorable Quote: "We started out like Romeo and Juliet, but it ended up in tragedy."

Random Trivia: Milhouse is one of only a small handful of Simpsons characters (including his parents) drawn with eyebrows.

6. Troy McClure/Lionel Hutz (tie)

Memorable Quotes: "Hi, I'm Troy McClure. You may remember me from such self-help tapes as Smoke Yourself Thin and Get Some Confidence, Stupid!"

"Homer, I don't use the word 'hero' very often, but you are the greatest hero in American history."

Random Trivia: Actor Billy West based the voice of Futurama's Zapp Brannigan in large part on Phil Hartman's performance as Troy McClure.

Lionel Hutz is also known by the aliases Miguel Sanchez and Dr. Nguyen Van Falk.

5. Ned Flanders

Memorable Quote: "I've done everything the Bible says — even the stuff that contradicts the other stuff!"

Random Trivia: Ned's habit of inserting nonsensical phrases like "diddly" and "doodly" into his sentences is the result of psychological conditioning to suppress his childhood rage.

4. Sideshow Bob

Memorable Quote: "Attempted murder? Now honestly, what is that? Do they give a Nobel Prize for attempted chemistry?"

Random Trivia: Sideshow Bob has a tattoo reading "Die Bart Die," which he once helpfully explained to the Springfield parole board is German for "The Bart, The."

3. Comic Book Guy

Memorable Quote: "Inspired by the most logical race in the galaxy, the Vulcans, breeding will be permitted once every seven years. For many of you, this will mean much less breeding; for me, much much more."

Random Trivia: Comic Book Guy's actual name as Jeff Albertson, a name purposefully chosen by the producers to upset fans hoping for something less generic.

2. Ralph Wiggum

Memorable Quote: "Me fail English? That's unpossible!"

Random Trivia: The Bloodhound Gang "Ralph Wiggum" in 2005, a song with lyrics comprised almost entirely of quotes from the character.

1. Mr. Burns

Memorable Quote: "Listen, Spielbergo, Schindler and I are like peas in a pod. We're both factory owners, we both made shells for the Nazis, but mine worked, dammit! Now go out there and win me that festival!"

Random Trivia: Mr. Burns' Social Security Number is 000-00-0002 (he remains bitter at Franklin D. Roosevelt for snatching up 000-00-0001).
 
Honorable Mentions (Single-Appearance Characters): Frank "Grimey" Grimes, Poochie, Sherry Bobbins, Hank Scorpio, and Lyle Lanley.
Posted on July 24, 2007
Cracked.com: A perfectly cromulent list of the top 12 words and phrases created by The Simpsons, certain to embiggen even the smallest of vocabularies.
Posted on July 20, 2007
BBC: How bad have things gotten in Iraq? Would you believe man-eating badgers? No? Well, believe it.
Posted on July 20, 2007
Harry and Draco quietly settle down in a domestic partnership and live happily ever? Hermione was actually Snape all along, disguising himself with a bottle of Polyjuice Potion? Dumbledore kills Ron?!
In what's become a Harry Potter release-date tradition here at Apropos of Something, feel free to post your own fake spoilers for Harry Potter and the Deathly Hallows in the comments section.
Posted on July 19, 2007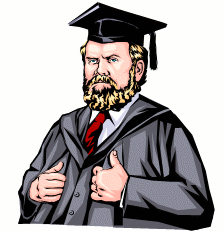 Why, yes. Yes, there is.
Okay, so even after successfully defending my dissertation, I'm still not the kind of doctor that can technically write prescriptions. But, since I earned my doctorate in political science, I'm pretty sure I can officially tell people who they should vote for now.
One thing's for sure: I'm finished with learning. I've been in school for twenty-five years straight, and I'm pooped. I hereby vow not to learn anything else whatsoever for the rest of my life. Nuts to you, mankind's eternal quest for knowledge!
In conclusion…woo-hoo!
Posted on July 15, 2007
Maybe you've heard of efforts by companies like Dell Computers to reduce their carbon footprint — for instance, planting trees to offset the environmental effects of their CO2 emissions. Well, after spending all day yesterday stripping the walls in our living room, I think they should do the same thing with wallpaper. For every square foot of tacky, difficult-to-remove wallpaper someone is just dying to paste up, he or she should be required to strip the same square footage of unwanted wallpaper from someone else's home.* By reducing what I call our "wallpaper footprint," we can make the move toward net-zero wallpapering projects in the short term and hopefully eliminate the use of wallpaper altogether in the long run.
So, take heart! If we all work together, we can overcome the ever-present threat of bad wallpaper in our lifetime.
* Yes, that seashell border you're thinking about hanging in the guest bathroom counts!
Posted on July 13, 2007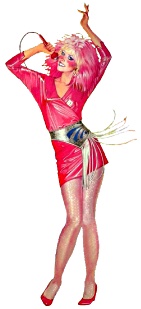 Thanks to the box office success of Transformers, studios are lining up to adapt old Saturday morning favorites into next summer's blockbusters. According to Entertainment Weekly, big screen versions of Thundercats, He-Man, G.I. Joe, the Smurfs, and Alvin and the Chipmunks are already in the works (I've seen the film's hip-hop versions Alvin, Simon, and Theodore, and I weep for the future).
What's next? I realize it's not the manliest choice, but I think a Jem movie could be a lot of fun. You remember Jem and the Holograms, right? Glamor and glitter, fashion and fame? Truly, truly, truly outrageous? Update the style from '80s punk/pop/princess to something a little more contemporary, cast the right actress in the lead, keep the Jerrica/Jem secret identity and the Misfits as rivals, and I think there's potential. If nothing else, the confluence of music and fashion is an easier sell to girls than, say, a Rainbow Brite movie (rainbow-maned talking horse notwithstanding).
Of course, worst case scenario is that a film version of Jem would end up like 2001's Josie and the Pussycats. Not even the combined talents of Parker Posey, Rosario Dawson, and Alan Cumming could save that one.
So, what Saturday morning cartoons would you like to see transitioned to the big screen?
Posted on July 12, 2007
In the interest of full disclosure, I'm not what you'd call a Harry Potter expert. That is, I've never read the books, and the previous four movies — it was four, right? — all blur together in my mind at this point. With that disclaimer out of the way, I really enjoyed The Order of the Phoenix. I thought the narrative was much stronger this time around than in the last two installments, and Imelda Staunton was simply spectacular as Dolores Umbridge, this year's winner of the Defence Against the Dark Arts professorship sweepstakes at Hogwarts. Also, without knowing anything about the Luna Lovegood character from the novels, I thought Evanna Lynch turned in a bizarrely appealing performance.
What I liked best about The Order of the Phoenix, however, is that Harry finally had a chance to do something as far as forming Dumbledore's Army and training his fellow wizards. I was getting a little tired of Hermione running around casting time travel spells in the previous films while Harry struggled to do anything more impressive than lighting up a dark passage with his wand ("Underwhelmicus magicka!").
The Order of the Phoenix still felt a little too long at two-and-a-half hours. Moreover, I would have enjoyed seeing more build-up to the eventual reveal of this installment's "big bad," as well as additional screen time for Helena Bonham Carter as the demented Bellatrix Lestrange. Nevertheless, The Order of the Phoenix was a pleasant surprise from a franchise I had started to doubt. Of course, there's still only one Harry Potter sequel we're all dying to see:
 
The verdict: A-
Posted on July 11, 2007
McSweeney's: A Letter to Optimus Prime from his GEICO Auto Insurance Agent. "Since becoming a GEICO customer in January, you have reported 131 accidents. You have claimed not to be responsible in any of them, usually listing the cause of the accident as either 'Sneak attack by Decepticons' or 'Unavoidable damage caused by protecting freedom for all sentient beings.'"
Posted on July 11, 2007
Cracked.com: 11 Movies Saved by Historical Inaccuracy. "Every year, Hollywood pumps out 'historical' epics so distorted, propagandistic and self-serving, you have to wonder just how stupid they think we are. But, try 'fixing' some of those historical inaccuracies and you'll quickly realize what Hollywood screenwriters have known for years: History is lame."