Posted on June 27, 2007 @ 1:03 pm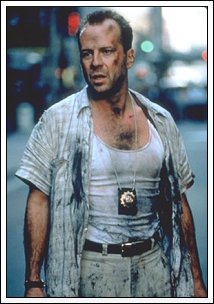 With Live Free or Die Hard out in theaters today, now seems like as good a time as any to come clean with regards to my "movie buff" credentials. In the interest of full disclosure, I've never actually seen any of the Die Hard movies. I haven't consciously avoided them through the years; I just never got around to watching them.
I haven't seen The Sixth Sense either. Maybe it's a Bruce Willis thing. Then again, there are plenty of ridiculously popular movies out there that I've never seen.
Top Gun. In fact, you can throw in most of the Tom Cruise filmography — Risky Business, Cocktail, Rain Man, A Few Good Men, and Jerry Maguire. I guess I didn't like Tom Cruise before not liking Tom Cruise was cool.
 
The Jurassic Park series. I tried to watch the first installment on at least three occasions, but I managed to fall asleep each time before the dinosaurs actually showed up. There were dinosaurs, right?
 
The Lethal Weapon series. I really don't know anything about these films other than the fact that Danny Glover was apparently getting too old for some shit.
 
The Terminator and T2: Judgment Day. I saw the third one, just never the first two.
 
The Nightmare on Elm Street, Friday the 13th, and Halloween series. My mom forbade me to watch these slasher flicks when I was a kid, and I'm pretty sure the statute of limitations hasn't run out on that yet.
 
The Goonies. Everyone assures me that this movie will change my life when I finally see it. Tragically, to this day, I still have no idea what the Truffle Shuffle looks like.
 
Silence of the Lambs. Do I really need to see it if I'm already familiar with the whole fava beans and chianti bit?
 
Pretty much anything based on the work of Stephen King. This list includes, but is not limited to, Carrie, Children of the Corn, Christine, Cujo, The Green Mile, It, Misery, Pet Sematary, Salem's Lot, The Shawshank Redemption, The Shining, The Stand, and Stand By Me. In fact, if I hadn't seen 1408 just yesterday, I could honestly say I hadn't seen anything based on the work of Stephen King. How weird is that?
 
So, with that off my chest, what notable gaps exist in your movie buff credentials?