Posted on May 15, 2007 @ 7:47 am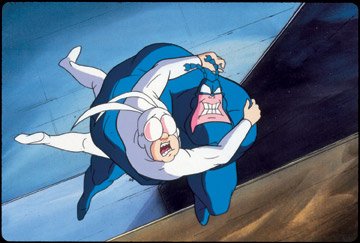 No, I'm not talking about the nightmare where I'm starring as Willy Wonka in a stage production of Charlie and the Chocolate Factory and can't for the life of me remember any of my lines. I'm talking about my real worst nightmare. The one thing I've dreaded since I was a small child. The thing that gives me a severe case of the jibblies just thinking about. Well, that nightmare came true last night.
I found a tick on myself.
I absolutely abhor the thought of a tick embedding itself in my supple flesh, yet there it was — taking up residence on my hip. Drinking in my deliciously nutritious blood. Spreading God knows what diseases. Oh, and most of all, creeping me the hell out.
My immediate reaction was to run around the house, sobbing, waving my arms, and screaming, "Get it off! Get it off! Get it off! Get it off!" Eventually, my wife got me to stand still long enough for her to yank it out with a pair of tweezers. Afterwards, she calmly declared, "Oh, look — it's a Dermacentor variabilis. Female, if I'm not mistaken."
It's times like this when being married to a vet is less comforting than it sounds.
Anyway, I'm parasite-free now (to the best of my knowledge). Of course, I can still feel "phantom sucking" from the spot where the tick had attached itself. And I'm developing psychosomatic Lyme disease symptoms including fatigue, achy joints, headache, and malaise (of course, in all fairness, I've suffered from a general malaise for years now). Just to be on the safe side, I think I'll just stay in bed for the next week and bathe in rubbing alcohol every few hours.
<shudder>
So, what really skeeves you out?