Posted on January 23, 2007 @ 1:59 pm
Indie rock fans, rejoice! The new Shins album, Wincing the Night Away, is out today. What better way to mark the occasion than live-blogging my first listen?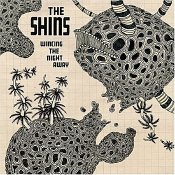 Ooo…the album is packaged with a free sticker! Suck it, online music stores!
 
Synths? What the deuce? The first track ("Sleeping Lessons") almost sounds like a Björk song (specifically "Immature" from Homogenic).
 
Oh, wait…it starts rocking about two and a half minutes in. You know, as much as the Shins ever rock. I was worried for a minute there.
 
The second track ("Australia") is much more upbeat — complete with a "la la la la" thrown in at one point. This one would fit right in with the more up-tempo numbers on Chutes Too Narrow.
 
"Australia" is definitely my favorite track so far on Wincing. Then again, I've only heard two songs so far and it's the first one not to remind me of Scandinavian electronica.
 
Track number three is "Pam Berry," a 56-second throwaway that's mostly fuzzy, distorted guitars. Next.
 
Here comes the album's first single, "Phantom Limb." It's classic Shins, reminiscent of the material on Oh, Inverted World. The video is definitely worth checking out, by the way. It's the best school play since Max Fischer graduated from Rushmore Academy.
 
"Sea Legs" is track five. I had hoped it would be a song about pirates, but it looks like that's not the case. The song features a catchy stop-and-go guitar riff that I can't help but like and a rather lovely string arrangement. "Girl, if you're a seascape, I'm a listing boat" is a fun lyric, but it seems the synths make an unwelcome return at the end of the song.
 
Either the Martian Symphony Orchestra puts in a guest appearance on track six ("Red Rabbits"), or the Shins decided they were a prog rock group at some point in the past three years. I'm starting the miss the low-fi sound of earlier releases.
 
Track seven, "Turn on Me." I'm starting to have my doubts about Wincing at this point. The guitars and drums are back (this is good), but lyrics like "You had to know that I was fond of you, fond of Y-O-U" seem clunky.
 
That being said, "Turn on Me" sports a refreshing Southwestern-tinged rock sound — so refreshing, in fact, that it reminds me of the Refreshments (you might remember their mid-'90s hit "Banditos"). That's not necessarily a bad thing; I'm just saying…
 
The CD case says that next track is "Black Wave." At first glance, I thought it read "Black Wayne" — a far more intriguing title, if you ask me. The track is has an ethereal vibe with lots of ambient sound. At this point, I really miss "Kissing the Lipless."
 
Three tracks left, and I'm really disappointed with the album. Yes, my expectations were ridiculously high, but I thought the Shins could pull it off. I wonder if there's still any room left on the Decemberists' bandwagon…
 
The next track ("Split Needles") starts to pull things back together again. The Shins sound like the Shins, which is a good thing in my book. I don't know if I'd call this track catchy, but it could definitely grow on me.
 
"Girl Sailor" is up next, and I already love the track after fifteen seconds. "You've made it through the direst of straits alright. Can you help it if plain love now seems less interesting?" Great song, very much the Shins sound we all know and love — upbeat, yet vaguely melancholy.
 
The final track is "A Comet Appears." It reminds me a bit of "Young Pilgrims" from Chutes Too Narrow. A beautiful slow-tempo song, definitely a highlight. I'll nominate this track as the most likely to appear as the backing track during a lingering, meditative close up of Zach Braff in his next movie.
 
Well, the last several tracks helped rescue Wincing the Night Away from going down as something of a disappointment. I'm sure the album will grow on me after a few more listens, but my initial impression is that Wincing is neither as solid an album overall as Chutes Too Narrow, nor does it reach the heights of songs like "Caring is Creepy" or "New Slang" from Oh, Inverted World.
That being said, there are some good tracks to be found on Wincing. If you're a Shins fan, you definitely want to pick it up. It may not "change your life" like Natalie Portman promised in Garden State, but it's still better than, say, My Chemical Romance. Right? Right.
Standout tracks: "Australia," "Girl Sailor," and "A Comet Appears"