Posted on December 19, 2006 @ 10:23 am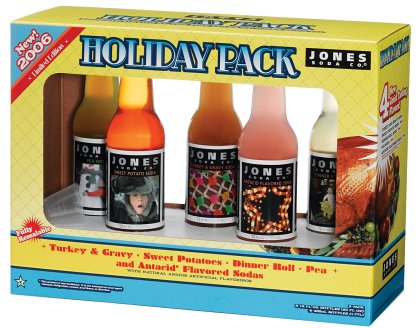 Each year, Jones Soda releases its infamous Holiday Pack containing a collection of soft drinks with, ahem, "holiday themed" flavors. This year's menu includes Turkey and Gravy Soda, Pea Soda, Dinner Roll Soda, Sweet Potato Soda, and Antacid Soda (which a disclaimer on the package warns is "non-medicinal" and "not intended to treat upset stomach, indigestion, nausea, heartburn, or diarrhea").
Anyway, I recently managed to snag a Holiday Pack. We had a few friends over for dinner last night, and I thought a round of taste tests might make for fun after-dinner entertainment. Here are the results:
 
First Course: Pea Soda
Color: Pale green, deceptively similar to Green Apple Soda.
Bouquet: Smells vaguely like vegetables…in a sinister way.
Taste: I expected Pea to be one of the worst of the bunch, but it wasn't so bad. Sure, you're not going to kick back with a ice cold Pea Soda at the end of a hard day's work, but I honestly expected spit-takes from my brave cadre of taste-testers. If I had to describe the taste, I'd call it a combination of ginger and nothing — you know, like when you get a drink from a soda fountain and the syrup is running out, so you end up with that carbonated water flavor. I expected worse, but it's worth noting that the smell is still disconcerting enough to make the Pea Soda an unpleasant experience.
Disgust-O-Meter™:

Second Course: Turkey and Gravy Soda
Color: Dirty brown, not unlike when the water in your house gets shut down and then runs a little muddy when it comes back a few hours later.
Bouquet: Smells like liquid dog food. I have a bad feeling about this.
Taste: Without a doubt, Turkey and Gravy Soda is one of the most disgusting things I've ever tasted in my life. I mean, it's one of those things you put in your mouth and your brain immediately starts buzzing, "That doesn't go there, stupid! Spit it out!" After sipping maybe a tablespoon of the stuff, I ran to the nearest sink, certain I was about vomit. Much to my surprise/dismay, though, I managed to keep it down. The flavor is definitely reminiscent of canned brown gravy, with an ever-so-slight meaty aftertaste. Some of my dinner guests thought Turkey and Gravy wasn't so bad, but they're wrong. The United Nations should classify this drink as a chemical weapon and take appropriate action against the Jones Soda company.
Disgust-O-Meter™:

Third Course: Sweet Potato Soda
Color: Could easily pass as orange soda.
Bouquet: Has a sweet, sugary fragrance. Far less frightening than the other varieties.
Taste: I needed a break after the Turkey and Gravy, and Sweet Potato seemed like the safest bet of the remaining flavors. It turns out I was right. As opposed to trying to capture the actual taste of sweet potatoes, Jones went with capturing the taste of sweet potato casserole, which results in a pleasant marshmallow flavor. In fact, the Sweet Potato Soda tastes remarkably like regular cream soda. Unlike the rest of the holiday pack, I'd actually drink this stuff willingly. If you drink just one ridiculously-flavored soda this holiday season, I recommend Jones Sweet Potato Soda.
Disgust-O-Meter™:

Fourth Course: Dinner Roll Soda
Color: A pale yellow, like watered-down lemonade.
Bouquet: No odor. At this point in the taste-testing, that's reassuring.
Taste: I took a big swig of the Dinner Roll Soda, and was surprised to find that I didn't taste anything. In fact, it reminded me of tonic water. Then, the aftertaste hit me. Butter. Lots of butter. Almost like movie popcorn butter — so much so that it actually made my mouth feel a little greasy. It's difficult to describe just how gross butter-flavored soda really is, but it immediately sent me to the kitchen sink to wash out my mouth. This soda is so uniquely bad that just writing about it gives my taste buds a flashback so vivid that I can almost taste it all over again. I'm not the only one who thought it was awful, either. My wife vomited not long after the taste test ended, chalking it up to the Dinner Roll Soda.
Disgust-O-Meter™:

Dessert: Antacid Soda
Color: Roughly that of watered-down pink grapefruit juice or pink lemonade.
Bouquet: Yep, it smells like Pepto-Bismol. This could be bad.
Taste: I'll give Jones credit; they packaged the Antacid Soda with a little plastic measuring cup dispenser to drive home the joke. One sip confirmed what I suspected; it tasted exactly like Pepto-Bismol, right down to the chalky aftertaste. I don't know if this is ironic or just sad, but by the time I reached the Antacid Soda in our taste test, it actually seemed to have a mild soothing effect. No, it didn't taste good, but after the Turkey and Gravy and Dinner Roll sodas, not tasting absolutely disgusting was good enough for me. Again, I'm not going to drink an entire bottle of the stuff, but the Antacid Soda didn't make me want to spit it across the room either.
Disgust-O-Meter™:

So, to recap, the Sweet Potato Soda is halfway decent, the Pea and Antacid sodas are technically potable but not recommended, and the Turkey and Gravy and Dinner Roll sodas should be avoided at all cost.
For what it's worth, if you decide to have your own Holiday Pack taste test, I wouldn't suggest inviting friends over to join in on the "fun." As opposed to providing the zany after-dinner entertainment I hoped it might, the taste test was so bad that I think it actually managed to ruin the evening.
In other words, don't try this at home, kids.