Posted on December 6, 2006 @ 1:16 pm
Janet asks, "What are you favorite TV game shows of all time and why?"
Oh, that's too easy. For me, it's the 1980s classic, Press Your Luck.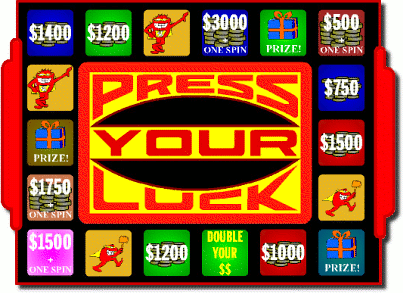 When I was a kid, I was absolutely mesmerized by Press Your Luck. I loved the ridiculously easy trivia portion of the game, but the real fun came when the contestants went to the Big Board. Ah, such sensory overload! Flashing lights, dollar amounts, trips to the Caribbean, free spins, contestants yelling "Big money, big money!" — what more could an eight-year-old want?
Of course, the best part was when players landed on a "Whammy" and lost all their money. I know it sounds corny now, but back in 1985, a tiny animated gremlin dressed like Cyndi Lauper and singing about taking the contestant's money was pretty funny stuff.
As far as modern game shows go, I have to admit that I'm oddly fascinated by NBC's Deal or No Deal, but the less said about that, the better.