Posted on October 29, 2006 @ 1:12 pm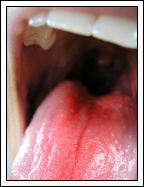 Ugh. I woke up early this morning with a sore throat and a swollen uvula (also known as "that dangly thing in the back of my throat"). It's so swollen, in fact, that I can actually feel it sitting there on the back of my tongue.
Does this happen to anyone else, or am I just a freak of nature? Either way, it's at once both disgusting and disturbing.
It's disgusturbing.
Image via Flickr user aileron.