Posted on July 25, 2006
27. Both my mother and father are Republicans, and I grew up fairly certain that I was a Republican, too (without really knowing what that meant). After spending a few years as a liberal in denial, I finally emerged as a tried-and-true, proud Democrat by the time I graduated college. As the years pass, I find myself drifting further and further left. On a related note, I've yet to vote for a winning candidate in a presidential election. Yes, that includes voting for Bob Dole in 1996. No, I'm not terribly proud of it either.
Posted on July 25, 2006
I believe that's Wolverine getting shield-pwned by Captain American Government in the panel above. Cut the guy some slack, Cap; he is from Canada, y'know. Original image via Chris's Invincible Super-Blog. The Apropos Comics archives are here and here.
Posted on July 25, 2006
Worst idea ever: "Where Does He Get All Those Wonderful Toys?" (MP3), a truly awful song by Jim Steinman from the upcoming Batman musical, as sung by the Joker. [via]
Posted on July 24, 2006
20. My wife turned me down the first time I asked her out on a date. Actually, it was more of a quasi-date; some friends and I were going to see Spiceworld, the Spice Girls movie, and I asked if she would like to come along. Shockingly, she wasn't interested. Undeterred, I asked her out again a few weeks later to see Nicolas Cage and Meg Ryan in City of Angels (which I still say was a far crappier film than Spiceworld). She said yes the second time around, and it's been nothing but wine and roses ever since.
Posted on July 24, 2006
We had a wonderful eleven years together, Airwalk sneakers. You travelled with me across the United States and beyond to Canada, Mexico, and even Italy. You were there with me for my senior year of high school, four years of college, and almost my entire time in graduate school. We've been through strolls in the park, afternoons at the beach, mountain hikes, bike rides, go-kart races, road trips, and more together. I was even wearing you when I proposed to my wife. For over a decade, you've been the only pair of sneakers I've owned or wanted to own.
I regret that our time together on this earth had to be cut short by your ever-growing stinkiness. If only it hadn't gotten so bad that I could actually smell your stench from six feet away while standing up, I know we could have made it at least another eleven years together. Farewell, guys. You'll be missed.
*sniff*
Posted on July 23, 2006
25. When I launched my blog in 2003, it was primarily as a means to test out blogging software (namely, Greymatter) for another web project I was developing at the time. I never imagined anyone beyond a few friends would read my ramblings — hence the blog's original title, the Least Interesting Destination on the Web. After only a few months of blogging, though, I was hooked. I soon switched over to Movable Type, renamed the site Apropos of Something, switched software again to Wordpress, and the rest is history. I like to think of blogging as my mental "warm up" each day; it's a fun way to get my brain into writing mode so I can spend the rest of my day working on my dissertation and other projects.
Posted on July 23, 2006
Great bedtime story, M. Night; I was already nodding off ten minutes into the show.
I see dud, people.
The verdict: D+
Posted on July 22, 2006
"There's only one Return, and it ain't of the King, it's of the Jedi." — Randal Graves, Clerks II
I have something of a love/hate relationship with Kevin Smith's films. When I first saw Clerks and Mallrats, I was completely blown away just by the idea of geek cinema. At the time, characters talking about Star Wars or comic books alone was enough to make me love Kevin's movies (regardless of their flaws); that was something you didn't see in movies at the time. Chasing Amy remains one of my favorite films from the 1990s, but with Dogma and Jay & Silent Bob Strike Back, I began to get frustrated and wish that Kevin would stretch himself a bit and try something new. That something new turned out to be Jersey Girl, which while it wasn't as bad as the critics said, wasn't all that good either.
So, I walked into Clerks II feeling like I had outgrown Kevin Smith's work. Even his early films just didn't resonate with me like they did years ago. Much to my surprise, however, I really liked Clerks II. It still has its flaws, but I think its safe to say that it's Kevin's best work in years.
The premise is simple (minor spoilers ahead): the Quick Stop has burned down, and Dante and Randal — now in their early 30s — are stuck flipping burgers and shirking responsibility at Mooby's, a bovine-themed fast food joint. It's Dante's last day of work before he moves to Florida to start a new life with his financée, Emma. From there, raunchy, I-can't-believe-it's-not-NC-17 hijinks ensue.
Posted on July 22, 2006
24. Growing up, my family and friends called me by my middle name, Jessee. The one exception was my best friend, who has always called me Jess for short. The two of us eventually ended up going to college together our freshman year. He was a little more outgoing than me and made friends quickly. When he would introduce me to them, he introduced me as Jess instead of Jessee. Before long, everyone around me knew me as Jess and I eventually began to think of it as my name. When I go home, though, or talk to old friends, I'm still Jessee — and it sounds so weird now.
Posted on July 21, 2006
23. I strongly believe that the chocolate chip cookie is the perfect dessert. There's just something divine in its simplicity.
Posted on July 21, 2006
"He was a boy. She was a girl/Can I make it any more obvious?" The 32 worst song lyrics of all time.
Posted on July 21, 2006
YouTube fun: A collection of classic Nickelodeon bumpers (the animated promos that ran before and after commercial breaks) from the 1980s. Little did I know until watching this montage that all of these were still seared into my brain. [via]
Posted on July 21, 2006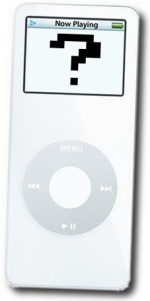 It's time for another Friday Shuffle! Last week, four songs went unidentified. I've posted a new batch of lyrics from the first twelve songs to play after I put my iPod on shuffle this morning. Let's see how many artists and song titles you can identify in the comments. I'll gray out each lyrics once it's been correctly guessed…
"My name is Wepeel, got a box full of your toys. They're fresh out of batteries, but they're still makin' noise, makin' noise…"
 
"Why did you keep the mousetrap? Why did you keep the dishrack? These things used to be mine. I guess they still are; I want 'em back…"
 
"So that's right dude, meet me at the bleachers. No principals, no student-teachers. Both of us want to be the winner, but there can only be one…"
 
"Do what I want, 'cause I can and if I don't, because I wanna. Be ignored by the stiff and the bored, because I'm gonna…"
 
"If you think that a kiss is all in the lips, c'mon, you got it all wrong, man. And if you think that our dance was all in the hips — oh well, then do the twist…"
 
"I spent last night in the arms of a girl in Louisiana. And though I'm out on the highway, my thoughts are still with her…"
 
"Women, not girls, rule my world. I said they rule my world. Act your age, mama, not your shoe size. Maybe we could do the twirl…"
 
"The first mate, he got drunk and broke in the captain's trunk. The constable had to come and take him away. Sheriff John Stone, why dont you leave me alone? Yeah, yeah. Well, I feel so broke up, I wanna go home…"
 
"All right, stop whatcha doin', 'cause I'm about to ruin the image and the style that ya used to…."
 
"Out of the tree of life, I just picked me a plum. You came along and everything started to hum…"
 
"Me and Timbaland been hot since twenty years ago. What da dilly, yo? Now what da drilly, yo? If you wanna battle me, then (people), lemme know…"
 
"Just last night, I woke from some unconscionable dream and had it nailed to my forehead again. To keep this boat afloat, there are things you can't afford to know. So I save all my breath for the sails…"
I have all kinds of invasive anti-cheating Javascripts embedded in this post, so don't try looking up the answers on Google.
Posted on July 20, 2006
22. While I seldom use any harsh profanity, I do tend to say "crap" quite a bit. "Son of a crap!" is one of my favorite expressions of frustration, and I've started using "Craphouse mouse!" purely for comedic effect after hearing my father-in-law say it and deciding it the was most ridiculous/wonderful thing I'd ever heard.
Posted on July 20, 2006
Sci-Fi's sneak peek at season three of Battlestar Galactica. Is it October yet?