Posted on July 30, 2006 @ 9:08 am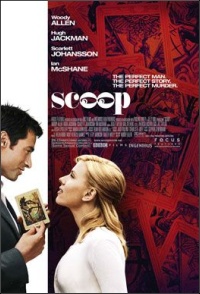 ZOMG! It's Wolverine versus Al Swearengen!
Okay, Ian McShane only appears on screen for five minutes tops and Hugh Jackman didn't have adamantium claws, but Scoop was an enjoyable little film nevertheless.
If you had to label Scoop, I suppose it's best described as a high concept supernatural murder mystery/romantic comedy/Woody Allen film. Y'know, the usual. Sondra Pransky (Scarlett Johansson) is an American journalism student on vacation in London. While attending a magic show starring the Great Splendini (Woody Allen), she is asked on stage to participate. Inside Splendini's "de-materializer box," Sondra is contacted by the spirit of a deceased reporter (McShane) with the scoop of a lifetime: the identity of London's notorious "Tarot Card Killer." With Splendini in tow and posing as her eccentric father, Sondra's investigation leads her to British blueblood Peter Lyman (Jackman). As she searches for clues linking Lyman to the tarot card-obsessed serial killer, Sondra finds herself unexpectedly falling for the charming aristocrat.
I'm not what you'd call a fan of Woody Allen's work. In fact, beyond bits and pieces Annie Hall, I've seldom enjoyed his films. That being said, Scoop was a fun movie. Allen is doing his usual schtick here, and I suppose you either like it or you don't. Much to my surprise, his portrayal of a bumbling vaudeville-style stage magician actually worked for me. Hugh Jackman is also solid as the love interest/possible serial killer. As far as acting goes, Scarlett Johansson is probably the weakest link. She plays Sondra a little broad — perhaps too naive and inept at times. Also, the mystery of the Tarot Card Killer is somewhat underdeveloped, but that's forgivable considering it's more of a backdrop for the comedy than the film's focus.
Scoop isn't a fantastic, must-see event, but I have to admit that I smiled throughout the entire movie. If you're looking for a nice break from summer blockbusters, I'd say it's worth your time.
The verdict: B