Posted on July 18, 2006 @ 8:49 am
Occasionally, I put together an Apropos Comic that just doesn't make the cut. In fact, I have a folder on my desktop full of Apropos Rejects — comics that seemed like a good idea at the time, but just didn't work out for one reason or another. What lies ahead isn't pretty, and it certainly isn't funny. Take Ironic Man, for instance: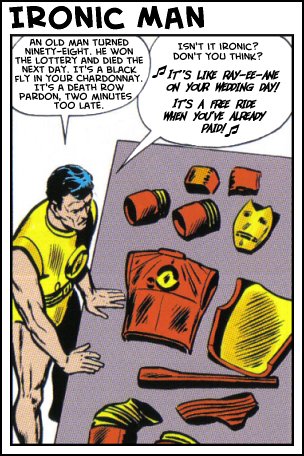 You see, it's extra ironic since none of the examples of irony cited in the lyrics are actually ironic. And it's extra funny (theoretically) since the character's name is Iron Man and you only need to add two letters to make it Ironic Man. Yeah, I know. Looking back, I had nothing to do with the funniest part of this comic — Tony Stark standing around in his Iron Undies.
Next up, we have Daredevil and Spidey, having some fun at the playground: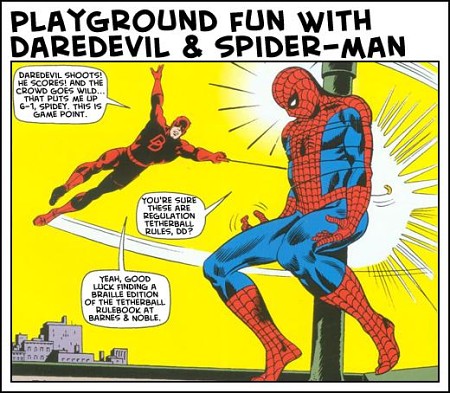 In hindsight, I think that one turned out less "funny" and more "mean to blind people." Thor, God of Amateur Ornithology, on the other hand…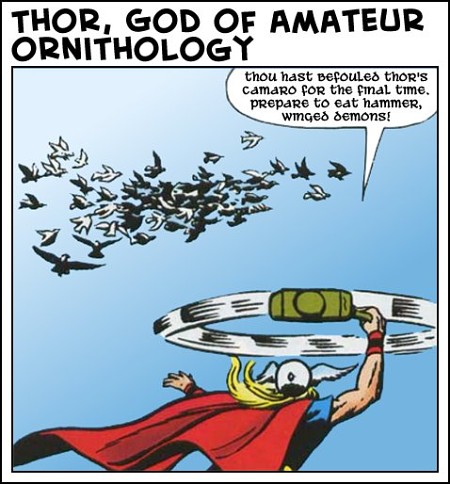 Yeah, I don't know what I was going for there. I guess I thought it was funny that it looked like he was about to throw his hammer at a flock of birds. Comedy gold! I dig the font, though; it's called "Ale & Wenches" (available for free download at Blambot, along with Creative Block — the font I use for the dialogue in most Apropos Comics).
Finally, good ol' Bat-Botanist: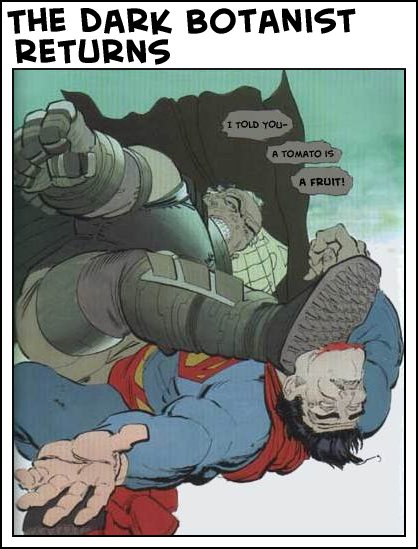 Yep, it's true. Tomatoes are fruits. It was totally worth the time spent in Photoshop to establish that. Check out senior citizen Batman putting the hurt on Superman, though!
Apropos Rejects…what was I thinking? Original images via Marvel Masterworks and Daily Scans. The Apropos Comics archive is here (filled with much funnier strips).