Posted on July 31, 2006
33. If I had a million dollars, my first splurge would be hiring a manservant to dress me every day. No, not like a personal stylist — I'm talking about someone to handle the physical act of dressing me. It's such a chore to bother with getting dressed every morning (sticking arms through sleeves, threading belts through loops) when I could be concentrating on more important matters. Plus, it's a noble tradition dating back to medieval times when knights had squires to put on their armor for them before they rode into battle. Only my armor is a button-up shirt and khakis, and my battlefield is the classroom. Or a library. Or whatever.
Posted on July 31, 2006
YouTube fun: Which is more awesomely awesome — Leonard Nimoy's 1968 music video for "The Ballad of Bilbo Baggins" or William Shatner's 1978 live performance of "Rocket Man"? Personally, I think it's a draw.
Posted on July 31, 2006
YouTube fun: Chad Vader, Day Shift Manager, Episode II. "Together we shall decimate the competition and conquer the food retailing industry!" In case you missed it: Episode I.
Posted on July 31, 2006
Diet Pepsi Jazz Strawberries & Cream (Quaff-o-Meter Score: 59.4)
Let's start with the name, shall we? Diet Pepsi Jazz. While this concoction is unlikely to produce jazz hands in many drinkers, the flavor did seem rather improvisational. In its defense, Diet Pepsi Jazz Strawberries & Cream is nowhere near as disgusting as Diet Dr Pepper Berries & Cream, but it still tastes like drinking a Diet Pepsi while chewing a piece of strawberry Bubblicious. Oh, and sucking on a packet of SweetN' Low (which I can only assume comprises the "cream" portion of the Strawberries & Cream moniker).
I was able to drink the entire bottle, but it's certainly not an experience I look forward to repeating. Nevertheless, if you really love strawberries, Diet Pepsi Jazz could be much worse. After all, it could be Diet Dr Pepper Berries & Cream. Shudder.
So, to sum up:
Diet Pepsi + Strawberry Bubblicious ≠ Crazy Delicious
 
Diet Pepsi Jazz Strawberries & Cream scores a less-than-impressive 59.4 on the highly scientific Apropos of Something Quaff-o-Meter — almost passing, but not quite enough to round up to a D-.
Posted on July 30, 2006
32. I'm a little anal retentive when it comes to the condition of my books. I suspect it's a holdover from collecting comic books when I was younger, but I just can't stand the thought of highlighting or scribbling in the margin of anything I read. I'm also nitpicky when it comes to creasing spines and dog-earing pages.
Posted on July 30, 2006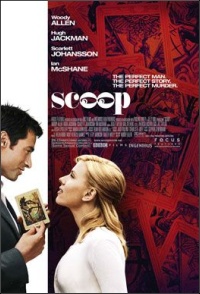 ZOMG! It's Wolverine versus Al Swearengen!
Okay, Ian McShane only appears on screen for five minutes tops and Hugh Jackman didn't have adamantium claws, but Scoop was an enjoyable little film nevertheless.
If you had to label Scoop, I suppose it's best described as a high concept supernatural murder mystery/romantic comedy/Woody Allen film. Y'know, the usual. Sondra Pransky (Scarlett Johansson) is an American journalism student on vacation in London. While attending a magic show starring the Great Splendini (Woody Allen), she is asked on stage to participate. Inside Splendini's "de-materializer box," Sondra is contacted by the spirit of a deceased reporter (McShane) with the scoop of a lifetime: the identity of London's notorious "Tarot Card Killer." With Splendini in tow and posing as her eccentric father, Sondra's investigation leads her to British blueblood Peter Lyman (Jackman). As she searches for clues linking Lyman to the tarot card-obsessed serial killer, Sondra finds herself unexpectedly falling for the charming aristocrat.
I'm not what you'd call a fan of Woody Allen's work. In fact, beyond bits and pieces Annie Hall, I've seldom enjoyed his films. That being said, Scoop was a fun movie. Allen is doing his usual schtick here, and I suppose you either like it or you don't. Much to my surprise, his portrayal of a bumbling vaudeville-style stage magician actually worked for me. Hugh Jackman is also solid as the love interest/possible serial killer. As far as acting goes, Scarlett Johansson is probably the weakest link. She plays Sondra a little broad — perhaps too naive and inept at times. Also, the mystery of the Tarot Card Killer is somewhat underdeveloped, but that's forgivable considering it's more of a backdrop for the comedy than the film's focus.
Scoop isn't a fantastic, must-see event, but I have to admit that I smiled throughout the entire movie. If you're looking for a nice break from summer blockbusters, I'd say it's worth your time.
The verdict: B
Posted on July 29, 2006
31. When I was five years old, I was a huge Star Wars fan (like pretty much every other kid in the world). I remember having a dream one night that I was playing with the toy Millennium Falcon that I had seen advertised on television so many times. The dream was so vivid that I woke up the next morning thinking that I actually owned the toy. I hopped right out of bed, ran downstairs to my toybox, and nearly cried when it wasn't there. My dad saw that I was upset about something and asked me what was wrong. I told him about the dream and how sure I was that it had been real. He thought for a moment and then told me to go get dressed. My parents didn't make a habit of buying me expensive toys outside of Christmas or my birthday, but after seeing how disappointed I was after my dream, my dad took me out that morning and bought me a Millennium Falcon. It's still one of my fondest childhood memories.
Posted on July 28, 2006
During the year I spent playing The Game That Shall Not Be Named, I pretty much stopped watching television altogether (or doing anything else, for that matter). Now that I've gone cold turkey, though, I seem to have developed truly awful taste in television. Check out what I'm watching this summer…
My Fair Brady: For some unfathomable reason, I find Adrienne Curry ridiculously funny. I think I've seen every episode of the latest season at least twice now. Yeah, I know — somebody shoot me now.
 
Miami Ink: I'm not sure why I'm so fascinated with this show; every episode is exactly the same. Someone who has lost a brother/mother/sister/father/friend comes into the shop and wants a tattoo of something silly like a Bengal tiger chewing on a Honda emblem with the phrase "Our Princess is in Another Castle" written under it to commemorate their loss, because "that's the way I want to remember them."

My Life on the D-List: I can't tell if I'm laughing with Kathy Griffin or laughing at Kathy Griffin. No, wait…I'm pretty sure it's the second one.
 
What Not to Wear: I don't even want to talk about this one.
Thank goodness for Deadwood on DVD and The Colbert Report to keep my life from being a total waste. Stephen Colbert is a golden god. In fact, I think I'll take this opportunity to officially announce Stephen Colbert as Apropos of Something's new patron saint. Better luck next time, St. Thomas Aquinas.
All hail Colbert! All hail Colbert!
Posted on July 28, 2006
30. I'm a loud talker. My voice is rather deep, and despite my best efforts to maintain an "inside voice," it carries. For example, I routinely lecture in 300-seat auditoriums without the aid of a microphone, and my colleagues often comment that they can hear me teaching my classes while sitting in their offices two floors up. Sometimes I feel like Will Ferrell's "Jacob Silg" character from SNL — you know, the guy who can't control the volume of his voice. It's a tough life.
Posted on July 27, 2006
29. I could live on hummus (or "chickpea spread" as I've heard it called a few times in the South). I eat hummus like most Americans eat peanut butter, or like Australians eat that disgusting Vegemite stuff. Of course, short of going to a restaurant that serves Middle Eastern cuisine, it's tough to get good hummus. After years of searching, I've finally found a decent store-bought brand: Wild Garden Hummus Dip (available at Cost Plus World Market). Mmm…it's wonderful.
Posted on July 27, 2006
Darth Vader phones the Emperor with some bad news. "What do you mean they blew up the Death Star? Who's 'they'? What the hell is an Aluminum Falcon?!?" [via]
Posted on July 27, 2006
Warning: the following comic contains spoilers for Superman Returns.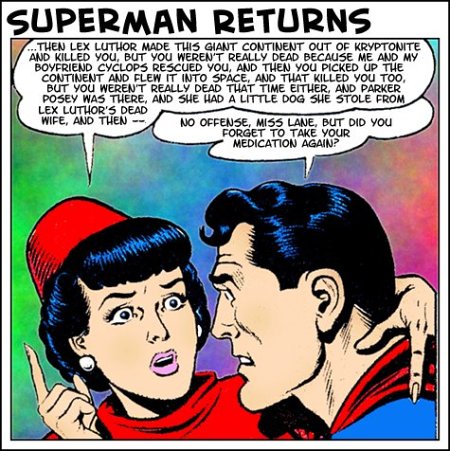 Original image via Dial B for Blog. The Apropos Comics archives are here and here.
Posted on July 26, 2006
28. Even though I study politics for a living, I try my best to avoid casual discussions of the subject. Inevitably, such conversations result in the other party's disappointment that my expertise neither gives me the ability to precisely predict the political future, nor to recall the exact population of Uganda on the spot.
Posted on July 26, 2006
YouTube fun: William Shatner, accompanied by a chorus line of dancing Stormtroopers, sings to George Lucas at the AFI's 2005 tribute to the Star Wars creator. [via]
Posted on July 26, 2006
How to be an expert on anything by Stephen Colbert. Tip #4: "Use the word zeitgeist as often as possible."