Posted on May 17, 2004 @ 11:26 am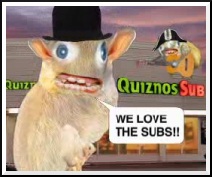 Lachlan recently wrote about Quiznos' now-infamous spongemonkeys commercial at My So-Called Blog, declaring it the worst commerical of all time. I tend to agree. As I commented on her entry, the ad disturbed me from the first time I saw it a few months back. In fact, all I could think while watching these freaky little creatures dance across my television screen was, "Quiznos has rat meat in its sandwiches. Those things are rats, and they're in the sandwiches." At that point, I swore that I would never set foot in a Quiznos.
Perhaps I spoke too soon. A few weeks ago, my wife and I decided on a whim that we would try a Quiznos sub (I guess rat meat sounded tasty to us at the time for whatever reason). So, we went to the local franchise and hopped in line. After a couple of minutes of studying the menu, I turned to Kourtney to ask what she was thinking about ordering. It was then that I noticed her eyes were bloodshot, streaming tears, and becoming swollen. And by "swollen," I mean that her corneas were literally swelling up around her contact lenses.
Naturally, we left Quiznos immediately. After about five minutes in the car, however, all of Kourtney's symptoms had disappeared and she was feeling fine. Needless to say, we concluded that it was something in Quiznos that caused the flare-up. Her theory was that the much-ballyhooed toasting of the Quiznos subs essentially aerosolized the oregano and other spices used in preparing the sandwiches, irritating her eyes in the process. My theory was, and remains, that she's allergic to rat meat.
Meanwhile, on the ride home, we began composing our own ad jingle: "We love the subs! They make our eyes swell shut…"